May's Let's Lunch theme is Asian Pacific Heritage Month, and since Mother's Day is also coming up, I'm sharing a few stir fry tips I learned from my mom.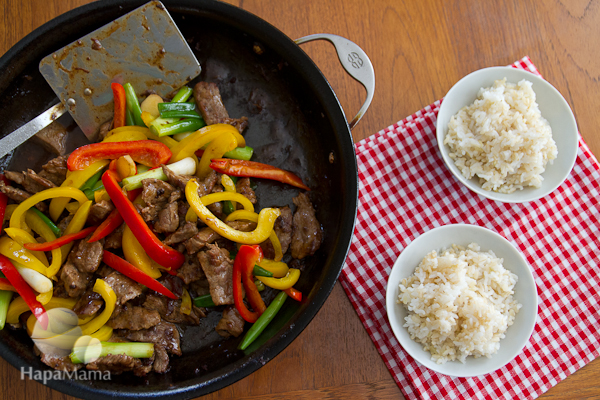 There are many articles and countless recipes proclaiming to be definitive guides on how to stir fry,  but in my mind, the right way way to stir fry will always be my mom's way. The Chinese meals she made were simple, especially since she was employed full-time during most of my childhood and whipped up quick dinners after working all day and picking brother and me up my  from daycare. She used just one cleaver to cut vegetables and meat, smash garlic and slice ginger, and quickly sautéed them in a frying pan with just a splash of soy sauce. No garlic press, grater or measuring spoons.
A comination of beef and green peppers was a common dinner. Or pea pods tossed with a few shrimp. We had to rely on ingredients available at the local grocery store, as there weren't any Asian markets in our Midwestern college town. Our meals weren't the kind of greasy stir-fries, coated with thick sauces, found at many American Chinese restaurants. They were simple, with just a hint of sesame oil or sa cha sauce for flavoring. On the counter, she often kept a small cup filled with a white liquid, but once when I tried to drink it she warned me it wasn't milk. Instead, it was a slurry of cornstarch dissolved in water, which she poured over the cooked vegetables at the last minute to keep them moist and make them glisten.
I don't recall my mother ever following written directions to stir fry. In fact, the main cookbook she owned was a worn copy of Betty Crocker recipes, referenced only for making American food. Simple stir fry is more of a matter of instinct, common sense and a few guidelines. To this day, I find myself constitutionally incapable of adhering to a instructions when cooking. In the rest of my life, I follow the rules, color inside the lines and do unto others. When stir frying, I follow my gut and do as I please, and you should too — with a few guidelines.
Tips for Stir Frying
Cut all your vegetables in small, evenly sized pieces.
Partially freeze your meat, if possible, and slice thinly across the grain.
Break off a few cloves off garlic and smash them with the side of a large knife. The skins will fall off and they will be smashed enough to release the flavor.
No need to grate the ginger or use a spoon to scrape off the skin. You can peel the skin with a knife, if you must, and slice into rounds.
Heat your wok (or frying pan) at your stove's highest setting.
When the pan is hot, add a silver dollar sized amount of neutral oil and swirl around
Don't stir fry with sesame oil — it has a low burning point. Use a neutral oil like canola or grape seed, or peanut oil for that classic Chinese food taste. Add a little more just before each batch.
Saute your aromatics first and remove them from the pan.
Saute vegetables next and remove them when their color deepens.
Saute meat, in small batches, last. Don't crowd the pan and let the meat sear before turning or the pieces will stick.
When all the meat is done, deglaze the pan with your sauce ingredients, if desired.
Serve the meat plated on top of veggies, or quickly toss everything back in the pan to heat through and combine flavors.
Beef and Green Pepper Stir-Fry
I know, I said I don't usually use recipes, but when cooking something unfamiliar it's helpful to have a roadmap. Here are some basic instructions adapted from the recipe for Oyster-Flavored Beef Over Rice from the Wei Chuan One Dish Meals cookbook.
Serves 4
Ingredients:
1 lb. flank steak
2 Tbsp. soy sauce
2 Tbsp. rice wine or dry sherry
1 Tbsp. cornstarch
1 tsp. sesame oil
2 green onions, cut into 1″ sections
6 slices ginger root
2 bell peppers, thinly sliced
3/4 c. water
3 Tbsp. soy sauce
2 Tbsp. Taiwanese sa cha sauce or oyster sauce
1 Tbsp. rice wine or dry sherry
splash of red wine vinegar
2 tsp. cornstarch
2 tsp. sugar
2-3 Tbsp. cooking oil, such as canola, grape seed or peanut
Directions: 
Freeze the beef for a few hours, if possible, to make it easier to slice. Slice into two or three sections lengthwise, then cut on the bias into thin strips.
Marinate the beef with soy sauce, wine, sesame oil and cornstarch.
Meanwhile, stir together the other liquid ingredients and keep close by.
Heat pan to high. When the pan is hot, add 1 Tbsp. oil and swirl to coat the bottom.
Add ginger and green onions, flipping constantly with a spatula.When the aromas are released, remove them from the pan and set aside.
Add a little more oil, if needed, and saute the pepper slices. Remove and keep with the aromatics.
Add a generous amount of oil and let it heat up a little, then add some of the meat, but not so much that the pieces are touching.
Let the meat sear, then flip the pieces with the spatula. When each batch is done, remove to a plate. Repeat with remaining meat, adding oil as necessary.
When all the meat is finished, deglaze the pan with the sauce mixture, scraping up any browned bits on the bottom of the pan.
The sauce should bubble and thicken. When the liquid turns translucent, reduce the heat and add the meat back in, mixing all the flavors together.
Plate the meat over the sauteed vegetables or add the cooked vegetables back into the pan for a quick toss.
Serve with steamed rice.
For more great stories and recipes in honor of Asian Pacific American Heritage Month, visit Linda at Spicebox Travels or follow the #LetsLunch tag on Twitter.