Does your kids' school do anything to celebrate Chinese New Year? Each year, I've volunteered to bring some treats or read a story with my sons' classes, because I think it's important to share our culture with the larger school community. Teaching others about our traditions helps foster understanding and tolerance for different cultures and also gives my kids a sense of pride in their own heritage.
Watch Out For Stereotypes
However, I've seen decorations and materials for Chinese New Year that feature chop stick lettering and outdated stereotypes, such as coolies with queues. Party supply stores can sometimes be the biggest violators in this area! Perhaps this is obvious to many of you, but some people might not be aware that they are actually perpetuating stereotypes in the attempt to foster cultural diversity. Chinese New Year brings out the jerks who think they need to bow and yell "Gung hay fat chow!" at every Asian person. Remember, young children are like little sponges that absorb what they're exposed to. So put away your fans and gongs, and certainly don't put any chopsticks into your hair. Teaching kids accurate and respectful representations of culture is something we can all do.
The display above was created by another parent several years ago for an event at my kids' preschool. While the maneki-neko, or "lucky cat", is gaining popularity in some Chinese diaspora countries such as Taiwan, it's a traditional icon, and the Japanese celebrate the new year on January 1, not on the Lunar New Year.
Offer to Volunteer
While teachers sometimes have a short lesson or a story planned for the holiday, I've never come across an educator who hasn't welcomed a parent who volunteers to bring first-hand knowledge of cultural traditions to share with the students. Because of language barriers or unfamiliarity with the American school system, some more recent Asian immigrant parents might not feel comfortable to volunteer in the classroom, but if you have the time and the ability, it's a great opportunity to be a role model.
So whether you are a parent or a teacher, here are some tips on how to teach Chinese New Year:
How to Teach Kids About Chinese New Year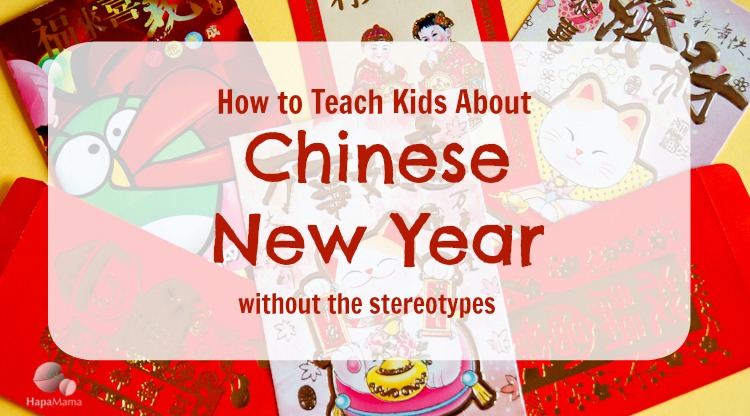 1. Decorate Kids are visual learners and notice things even adults don't. Consider using banners or signs featuring the zodiac animal of the upcoming year, which can often be purchased at Asian grocery stores or shopping malls. Red banners featuring Chinese poetry in gold characters are also a popular way to add a festive touch. If you don't have access to those decorations, even simple red streamers or homemade lanterns can be appropriate.
2. Read There are many picture books dealing with the Lunar New Year (remember, many Asian societies celebrate this holiday, also called Tet in Vietnamese or Seollal in Korean). See my list of Chinese New Year books for kids and also chapter books for older kids. Also, consider books such as Ten Mice for Tet or New Clothes for New Year's Day, which is set in Korea.
3. Make You don't need to go to a specialty store to decorate for the new year. I've made paper lanterns, banners and puppets just with construction paper and glitter. Lucky Bamboo Book of Crafts offers some easy projects for kids as young as three, complete with templates for many of them.
4. Give Traditionally, cash — preferably crisp bills — in a hong bao (red envelope) is the gift for Chinese New Year. I know many Americans feel uncomfortable about giving money, but in many Asian cultures there is not that stigma associated with cash gifts. One dollar would be plenty if you're distributing to every child in the class. It's hard for kids to resist opening the hong bao right away, but explain that the envelopes are supposed to be opened after the giver is no there.
5. Eat delicious snacks for the new year. While ubiquitous at Chinese restaurants in the United States, fortune cookies are not a traditional Chinese food.
Dumplings represent prosperity. If you don't have time to make them from scratch, you could cook the frozen potstickers sold in big bags at Costco, or even order them from a restaurant.
Noodles represent long life. Plain wheat noodles seasoned with a little soy sauce and sesame oil would be a good for young kids.
Oranges and tangerines symbolize luck and their bright color is reminiscent of gold. Many kids love the easy to peel mandarins that come in big boxes, so they'd make a healthy classroom snack.
Candy in shiny red and gold wrappers or chewy White Rabbit are sweet — literally, and figuratively. Chocolate coins or individually wrapped gummy candies in flavors like lychee or mango might also be a fun choice.
 I hope these tips help you to teach about Chinese New Year in class.
You may also like: Celebrating Chinese New Year When No One Else Is on Mom.me
Have any questions or suggestions? Please leave them in the comments, and I'll try my best to answer.