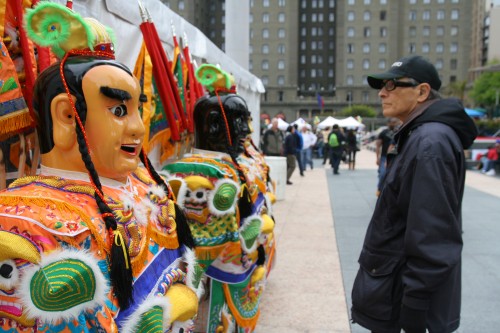 I headed up to San Francisco for the San Francisco Taiwanese American Cultural Festival, which takes place every May as part of Taiwanese American Heritage Week. It is truly surreal and beautiful to see booths selling homemade traditional foods and schoolkids performing Chinese and Aboriginal dances, set against the backdrop of historic hotels and department stores of Union Square. It's a long way from the Taiwanese bazaars of my childhood, which took place in a community center parking lot.
So below, I'm sharing a few of the sights from the 2011 event.

Live music was playing all day on the stage
My son tried his hand at Chinese brush painting
Taiwanese hand puppets. I remember my family had some of these when I was a child.
Taiwanese street fair games- everyone gets a prize
Asian Pacific American Heritage Month continues through the end of May, with activities going on all over the country, including the seventh annual Asian Heritage Street Celebration in San Francisco's Civic Center, this Saturday, May 11 from 11 a.m. to 6 p.m.