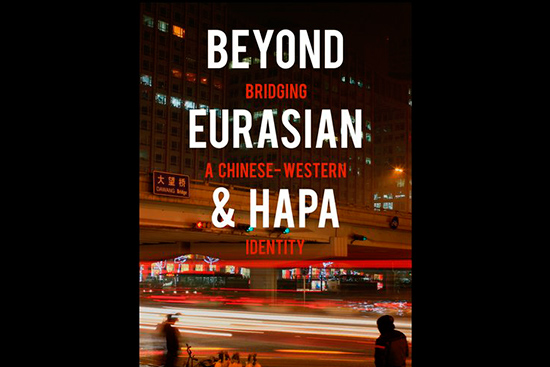 I recently had a chance to  interview Jason Fung, author of the upcoming book Beyond Eurasian and Hapa. Fung is a 34-year-old mixed-race (Chinese and Caucasian) person who went to high school and college in the U.S. is currently living in Hong Kong. His book draws upon his own family experiences, as well as history, to examine the different terms we use to describe multiracial Asians.
HM: What are your thoughts about the terms "Eurasian" and "Hapa"? How are they good descriptors and how do they fall short?
JF: These terms are really broad, and mean different things to different people.
For example, Macau has Eurasians; India has Eurasians (aka Anglo-Indians); Hong Kong and Sri Lanka and Burma have Eurasians. There are other definitions
for the term, but as far as I define it "Eurasian" means one thing: a bloodline traceable to original European colonials. Macau Eurasians, for example, see themselves as utterly distinctive. Even if you are Portuguese-Chinese mixed they still won't accept you as "Eurasian" by their standards if you were not from the accepted colonial bloodlines.There are plenty of fascinating "Eurasian" stories, surrounded by a rich material culture but "Eurasian" is too singular and closed.
"Hapa" is a term I really want to like. I really do. I have a number of friends who identify as "Hapa."  — i.e. mixed race and/or mixed culture in the broadest sense. Nonetheless, I struggled with "Hapa" because it was and is so vague. Eventually I drifted from it, and not exactly because Native Hawaiians wanted it back for their exclusive ethnic usage.
"Hapa" tries to be everything to everyone. It was nice to hang out with some cool people in the "Hapa"college clubs, but ultimately "Hapa" had no answer to questions like: "Dad wants me to be 'family-first,' while Mom wants me to be self-reliant- what do I do?"
"Eurasian" was closed and elitist, while "Hapa" felt good but just didn't have the utility. I had to create my own term in the book — "bothness."
HM: You mention a preference towards identifying as a mixture of specific ethnic groups (such as Chinese-Somali) instead of racial groups (such as Asian-black)? I wonder if that reflects a more Asian attitude towards identifying with particular nationalities, instead of the pan-Asian designation which has grown more popular in recent decades in the United States, as a result of inter-ethnic collaboration? I think in the U.S., there is a feeling of different ethnic groups benefitting from identifying together, as we may speak different languages and have various traditions, but we face many of the same struggles as minority groups?
 JF: I sympathize with what you are saying, identifying together often makes sense. But sometimes it doesn't. When I look at the Charlie Hebdo attack, I can't help but imagine the perpetrators of the attack, born in France to Algerian parents, caught between a secular West and an Islamist Maghreb, as coming somehow under the umbrella of "Third Culture" and/or "Hapa." Yet the identity crisis everyday Islamic-Europeans have with modernity doesn't have a cognate in Chinese-Western issues that affect me.  Does "Hapa" or "Third Culture" have anything to say about the situation in Ukraine, in the borderlands near the Donbas there are plenty of Ukrainian and Russian mixed families, with mixed Ukrainian/Russian kids. What about them? That is a version of "Hapa" and "Third Culture" I have little runway to imagine. Being mixed in heterogenous The Phillippines is totally different from being mixed in uber-homogeneous Japan. My point is specifics matter. The world is globalizing; furthermore, it is specializing. If being mixed means you have double or multiple access- well, that is a great thing. But the question is what do you do with that access? How deep do you take it?
HM: How do you think the mixed-race experience is different in Asia, as opposed to in America?
JF: As for America vs. Asia: I don't really think of it in terms of an Asian view of being mixed versus an American view. I think that as theworld develops and especially as economic opportunities grow in Asia, even American mixed kids with partial Asian heritage will see value in more specific understanding. It could be Korea, or Indonesia, or Malaysia, or Myanmar, or Thailand– or wherever. If you can speak the lingo, and you deeply understand the values and cultural instincts, you'll already be in a good position, and if you can juxtapose that understanding with your American culture, well you'll be in a great posit to garner unique insights.
You can follow Jason Fung on Twitter @jfung1 and learn more about Beyond Eurasian and Hapa on Publishizer. The book will be available on Amazon in March.