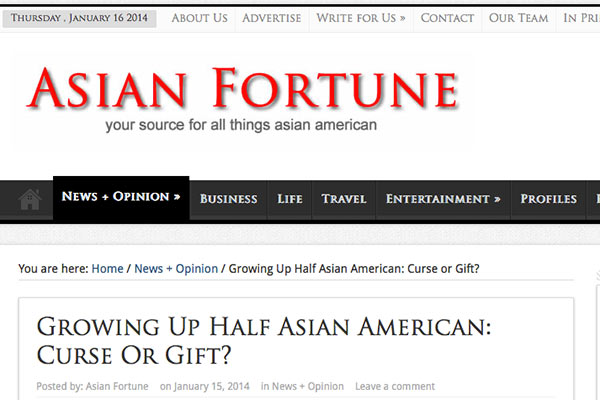 Back in December, I was approached by Asian Fortune Magazine for an article about half-Asian Pacific Americans. The reporter interviewed me, along with Professor Kip Fulbeck and several other mixed-race Asian Americans, for an story about what it's like to grow up hapa. Here's an excerpt of the part that features my interview:
Parents of HAPAs also struggle with helping their children craft and identity for themselves. Grace Hwang Lynch is a second-generation Taiwanese American from California's Silicon Valley region. Her husband is white; her two sons are HAPA. Hwang Lynch started her blog HAPAMama about Asian mixed-race family life in 2008. "I saw growing numbers of multiracial Asian families like mine, but little coverage of our experiences in the media and few forums where people could share their experiences," she told Asian Fortune.

Although her sons identify as biracial, Hwang Lynch finds it at times difficult to raise her sons between two cultures and said it requires a lot of conscious effort. "One of the challenges of raising HAPA kids is that there is only one Asian parent to pass down the language and customs," she said. "As a second-generation Taiwanese American, I was born in the Midwest during the 1970s, when assimilation was emphasized as a means towards becoming accepted as truly American, so I have to make a conscious effort to incorporate my heritage into our family life."
Read the full article Growing Up Half Asian American: Curse or Gift? at Asian Fortune Magazine.