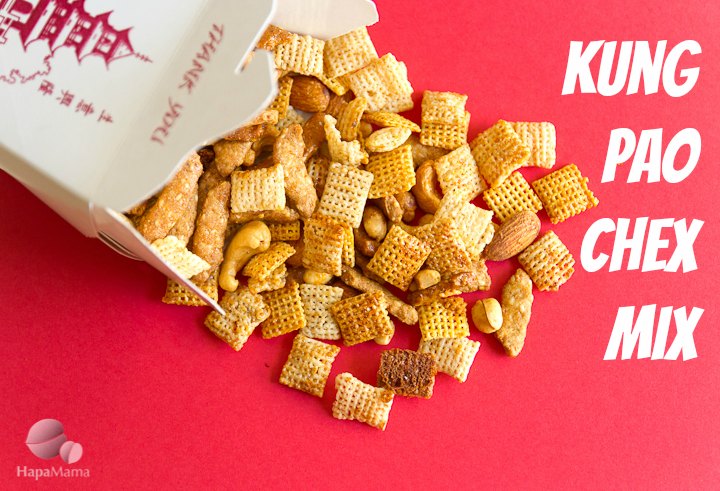 This summer, our family has several camping trips. One of my favorite parts of "roughing it" is making special snacks to enjoy while out in nature (I know, that's not exactly roughing it, but humor me here.) Of course, the limitations of packing food in a cooler and bear-proof lockers poses some extra challenges. One of my family's favorite trail-side munchies is Chex Mix, especially this Asian-inspired Arare Chex Mix recipe from La Fuji Mama.
But sometimes the boys go camping without me, and they sneak some other goodies. HapaPapa told me that one of the kids' favorite things to do is to ride their bikes around the Yosemite Valley, ending with a trip to the general store where they pick up a bag of Doritos. Not just any Doritos, but Spicy Sweet Chili flavor.
Big Brother is particularly partial to this taste. HapaPapa tried to explain it to me as sort of sweet, sort of spicy, sort of tangy — sort of like Chinese food.
I was thinking about new recipes to try for our recent camping trip, and the proverbial light bulb lit up over my head.
We like Asian spices.
We like snack food.
We like American-style Chinese food.
And so Kung Pao Chex Mix was born…
Kung Pao Chex Mix
This variation has more nuts than the traditional cereal mix, and you can vary the amount of red pepper flakes to suit your taste. I made mine pretty mild by shaking the spices lightly, since my kids don't like extremely hot foods.
Ingredients:
1/2 stick of butter
3 Tbsp. vegetable oil
1/4 c. light corn syrup
2 Tbsp. soy sauce or tamari
1 Tbs. rice vinegar (or white vinegar)
1 Tbsp. sesame oil
3 Tbsp. sugar
1 Tbsp. garlic powder
2 tsp.  onion powder
red pepper flakes, to taste
3 c. rice Chex
3 c. corn Chex
2 c. sesame sticks (available at Trader Joe's or bulk food bin of grocery stores)
2 c. peanuts
2 c. almonds
2 c. cashews
Directions:
Preheat oven to 250 degrees.
Melt butter in a saucepan over medium heat.
Add vegetable oil, corn syrup, soy sauce and sugar. Stir until the sugar is dissolved, then remove from  heat and add sesame oil
Mix dry spices in a separate bowl.
Mix together cereals, sesame sticks and nuts and spread over 2-3 cookie sheets. A silpat is helpful here to keep the ingredients from sticking to the sheet.
6. Drizzle the sauce over the cereal-nut mixture, turning lightly to coat. Sprinkle dry spices over everything.
7. Bake the mix in the oven for 1 hour, carefully turning the ingredients with a spatula every 15 minutes. The seasonings are stickier than those used in traditional Chex Mix, but you'll be rewarded with a crunchy caramelized coating when you're done!