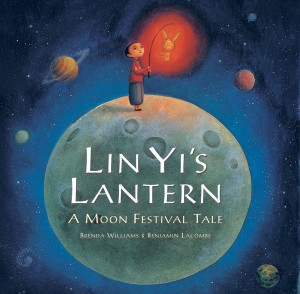 The month of September brings a spectacular full moon, which is celebrated around the world as the Harvest Moon. In China, Taiwan, and other parts of Asia, it is time for the Autumn Moon Festival. While round bean-filled moon cakes are readily available in Chinese bakeries and markets, do you know the story behind the holiday?
Lin Yi's Lantern, by Brenda Williams and illustrated by Benjamin Lacombe (Barefoot Books, 2009) is a Moon Festival tale worthy of O. Henry.
Lin Yi is a little boy living in China way back when. Even though he's a kid, he's charged with going to the market to buy supplies for the festivies: moon cakes, star fruit, rice, yams… and peanuts for Uncle Hui.
But there's one more thing Lin Yi would really like.
"Can I buy a red rabbit lantern for the moon festival — please!" begged Lin Yi.

"Well, that is up to you," said his mother. "I have no more money to spare, but if you bargain well at the market you may have enough left for a red rabbit lantern."
As you can imagine, this proves harder than Lin Yi expected… but in the heartwarming ending, he learns that special things sometimes happen during the Moon Festival.
Lin Yi's Lantern was sent to me by the wonderful folks at Barefoot Books, a publisher of children's books that include stories from many cultures and walks of life.
You have a chance to win Lin Yi's Lantern, or another book of your choice from Barefoot Books.
Here's how:
Visit the Barefoot Books website and find a title that interests you
Come back to HapaMama and leave a comment below, telling which book you like and why.
On Monday, September 12 — the Moon Festival — I'll randomly pick a winner!
The contest is open to U.S. and Canadian residents only. Sorry, no P.O. boxes.
This contest has ended.