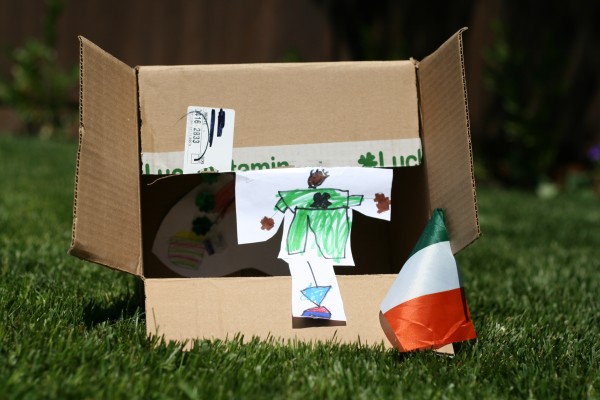 My son has really gotten carried away with St. Patrick's Day, a holiday I never really celebrated as a kid. What I remember most was the fear of getting pinched for not wearing green. Or the fear being harassed for wearing green while not Irish. Grown-up celebrations of St. Patrick's Day usually revolve around green beer (as if regular beer were not unappetizing enough). My only concession to St. Paddy's Day is the occasional McDonald's Shamrock shake.
Like all other celebrations, St. Patrick's Day has been blown into a full-scale bead wearing, sugar frenzied commercial attack. Are there four-leaf clover Peeps? I'm afraid to even check. So it was no surprise when my five-year old rushed home from kindergarten insisting that we build a leprechaun trap.
"Can you wait ten minutes until Mommy's done eating lunch?"
"No, I really really really want to."
"Just a few more minutes, Mommy's hungry and tired."
"Okay, I'll get started myself."
In less time than it took to finish a sandwich, my son drew a green stick figure sporting a shamrock on his chest. An arrow beneath the leprechaun points down to a house. The boy cut out his handiwork and taped it on top of the cardboard box I've provided him (which, conveniently, comes from a website whose logo is a four-leaf clover — how's that for re-use?)
Maybe it's because the kindergarten teacher made quite a big deal about St. Patrick's Day. "My teacher went to Ireland, and they have this stone, and you lean over and kiss it…" But before my son can finish telling me about the Blarney stone, he's become distracted. His feet are moving back and forth, practicing the Irish jig. Of course, they celebrate every holiday in kindergarten: Halloween, Columbus Day, Thanksgiving, Hannukkah, Christmas, Kwanzaa, and Chinese New Year. But none have sparked the level of excitement of St. Patrick's Day.
I suspect that this green tinged frenzy is a secret litmus test revealing my child's innate Irishness. After all, Lynch is an Irish name. But my husband's family maintains that their lineage comes from England — not Ireland — despite a carrot-topped grandfather nicknamed Red Lynch.
There is an Irish old-wives custom that goes something like this: someone strings her Claddagh ring — or wedding ring — on a necklace and hangs it in front of a pregnant woman's belly. Whether it swings side to side or spirals around in a circle is supposed to divine whether the baby will be a boy or a girl. Is there some kind of test like that to reveal hidden Irish genes?