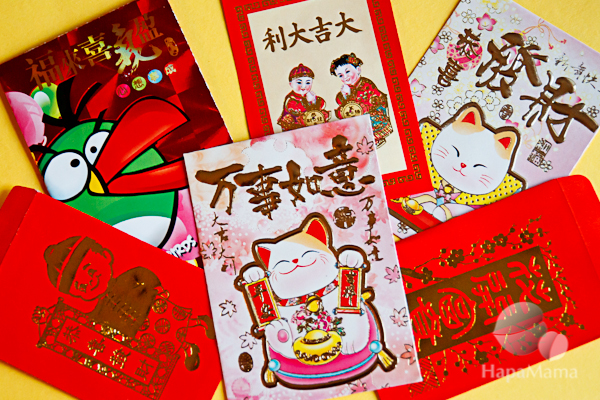 With Lunar New Year officially over, I'll bet your kids are flush with cash. Sometimes, I think my kids are richer than I am with all the red envelopes they get for Chinese New Year. I have to admit, when they were smaller, sometimes I'd just use their lucky money to buy groceries or whatever. It's all in the family, right?
Well now that the boys are older and know the value of the dollar (or $100!), I could never get away with that. By the end of the new year's period, they each have a stack of red envelopes from various relatives, friends and parties. And the money doesn't usually pass through my hands anymore. I used to collect all the envelopes and keep them in a safe place, but now that they're in elementary school and have learned what all those numbers on the bills mean and can read the price tags at Toys R Us, I don't do that anymore. Last year, I interviewed several financial experts for an article I was working on about teaching kids about money, and I was surprised that all agreed that kids need to be given a chance to spend their own money in order to learn how to manage their budgets in the future.
So we started doing a thing where big sums of money get deposited into the college savings account, but smaller bills go in the piggy bank or wallet. And you know what? My boys are very good at managing their cash. Little Brother, is especially judicious with his spending, because his birthday is in January. So it goes: Christmas, birthday, Lunar New Year. Then… the starvation period. As in 11 months without a major gift-giving holiday. He came up with that term himself, by the way. He's very careful with his funds, carefully deliberating over Pokemon cards and comic books, and even spreading out his use of little things like Jamba Juice gift cards throughout the year. It's almost painful for me to watch him agonizing over whether to spend his money on a Lego set or when he whether he needs to pay for the sales tax himself or whether I'll pay for it.
Big Brother saves his money, too, although he'll use a few dollars here and there to buy crowns on Wizard 101 or some other online game. Which I think is a waste of money, and it irritates me, and I want to ban him from spending his hard-earned cash (I know, he didn't have to earn it), but I bite my tongue. After all, it's his money. And that was one of the other lessons financial experts say kids need to learn: what happens when you waste money. Better to learn that now, than when they're in college and have to call home in the middle of the month and beg for a wire transfer. Or worse… when they're adults and can't pay the bills.
What do your kids do with their lucky money (or birthday checks, or what not)? Save or spend?