The March Let's Lunch theme is daffodils, a symbol of spring and life. In honor of the event, blogger Karen Morley of GeoFooding is donating $20 to the Canadian Cancer Society for every post.
Thank you, Karen!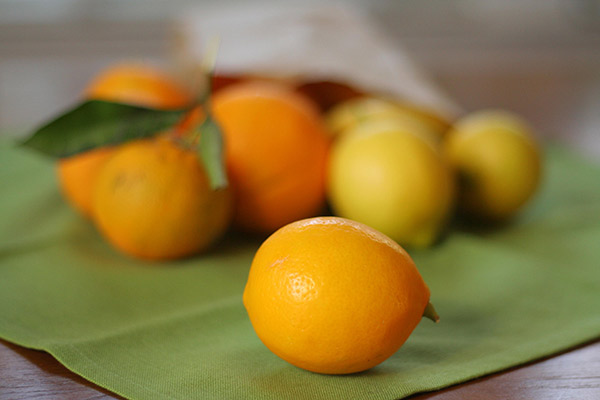 Sometimes, life hands you lemons. While this figure of speech assumes that lemons are a bad thing, I've always found homegrown lemons, particularly the Meyer variety often grown in the Bay Area, to be more of a blessing. The Meyer is a thin-skinned, sweeter kind of lemon; native to China, it's actually a hybrid of a regular lemon and a mandarin orange. I sometimes find bags of the yellow fruit, picked by my mother from her backyard tree, left on my doorstep. There is no note, no phone call. But I know who put them there.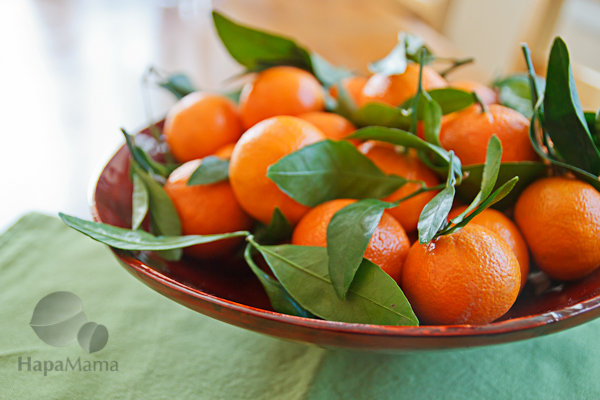 Other times, life hands you lemons and mandarins. Last week, I found cute little plastic containers full of mandarin oranges, leaves and all, in the produce aisle of Trader Joe's. How could I resist? The fruits were a little smaller than I prefer them, as they often are this late in the winter. But I bought some anyway. They make a lovely tabletop display, especially around Chinese New Year.
However, we have trouble eating all the mandarins. And I have bags of lemons I have yet to use up.
While flipping through the March 2013 Sunset Magazine, I stumbled upon a gorgeous Whole Orange Cake that uses chopped whole oranges (rind, pith and all!). When life hands you Meyer lemons and mandarins, bake a Bundt cake! I basically followed the recipe, except I used two Meyers and three mandarins, instead of  two regular oranges, and I replaced 1/4 cup of the flour with cornmeal, because the crunch and golden color makes me happy… and I had a little baggie of the stuff that I was taking up awkward space in my pantry.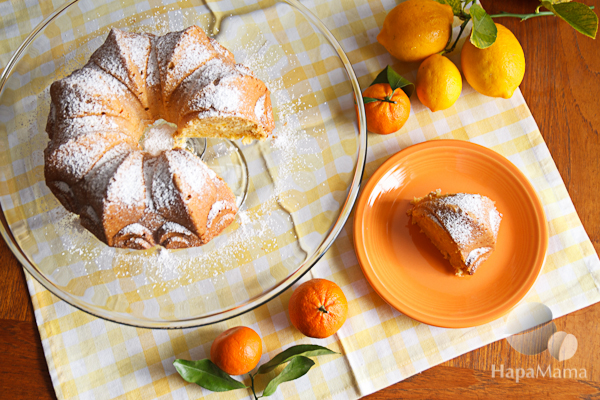 The cake was delicious. Unlike some lemon cake recipes, which are basically yellow cakes with a hint of lemon, this cake socks you in the mouth with puckeringly-good citrus flavor. It is moist and dense and makes your house smell wonderful. The problem with baking a cake this citrusy, though, is that no one in my family will eat it. It's too bracing for the kids, and my husband has super-human immunity to all baked goods, except for shortening-filled grocery store birthday cakes. Really.
As I've mentioned before, my mother is a terrific gardener. With an advanced degree in biology, she tends to her plants and trees and actually enjoys watering and pruning them. I, on the other hand, am mediocre to terrible at gardening. I really like the idea of homegrown fruits and vegetables, but why do they have to grow in dirt? The craft of growing food and having that connection to the earth is something I deeply respect. I just don't enjoy very much. It feels almost shameful to say, in this age where everyone is composting and keeping chickens and urban homesteading. Even the First Lady has a vegetable patch!
For all my shortcomings in the food production area, I am pretty good at taking the fruits of other people's labor and baking them into something delicious. Dirt under the fingernails? No way. Flour in the hair? Dirty mixing bowls in the sink?  Bacteria colonies in the Mason jars? Now that's what I'm talking about! This was not handed down to me from my family, or if it was, it skipped a generation. My mother is not a baker. At all. She once produced a box of lemon bar mix from her pantry and asked if that was the brand that I use.
While cleaning up my kitchen, I came across a Tupperware that belongs to my mother, left here from our Chinese New Year dinner. My eyes looked at the container in my hand, then at the half-eaten cake on the table. I knew just what to do.
I have to admit, I used to be disappointed that my mother wasn't the kind of mom who could teach me how to bake bread and decorate cookies. No, she was too busy working and raising me to be a doctor or engineer or some other lucrative and highly prestigious profession.
As I get older, I realize that we are all born with different gifts.
The real gift is learning to appreciate them.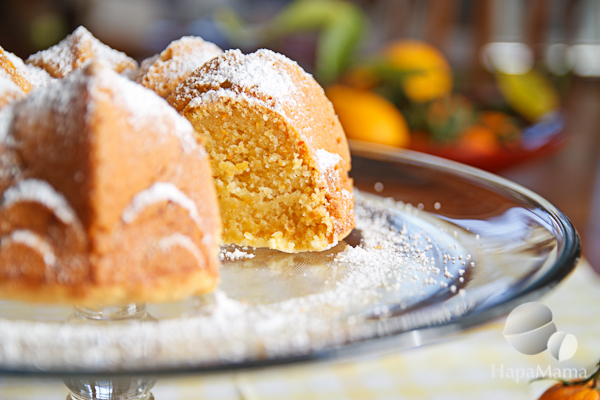 Let's Lunch is a virtual potluck from food bloggers around the world. Follow #LetsLunch on Twitter to see what my blogging buddies are cooking up!