August's Let's Lunch focuses on dishes that made you eat your veggies,
in honor of Washington Post Food and Travel Editor — and Let's Luncher — Joe Yonan's new book "Eat Your Vegetables: Bold Recipes For the Single Cook".
My local farmer's market is overflowing with the bounty of late summer: squash — both squat and thin; eggplants from Italy, China and Japan; and sweet and spicy peppers. With so many choices, I wouldn't mind being a vegetarian at this time of year. My kids, though, are another story. While they are getting better, they are still not vegetable lovers. Each boy has a few kinds of vegetables that he will tolerate. Little Brother prefers broccoli. Big Brother favors corn.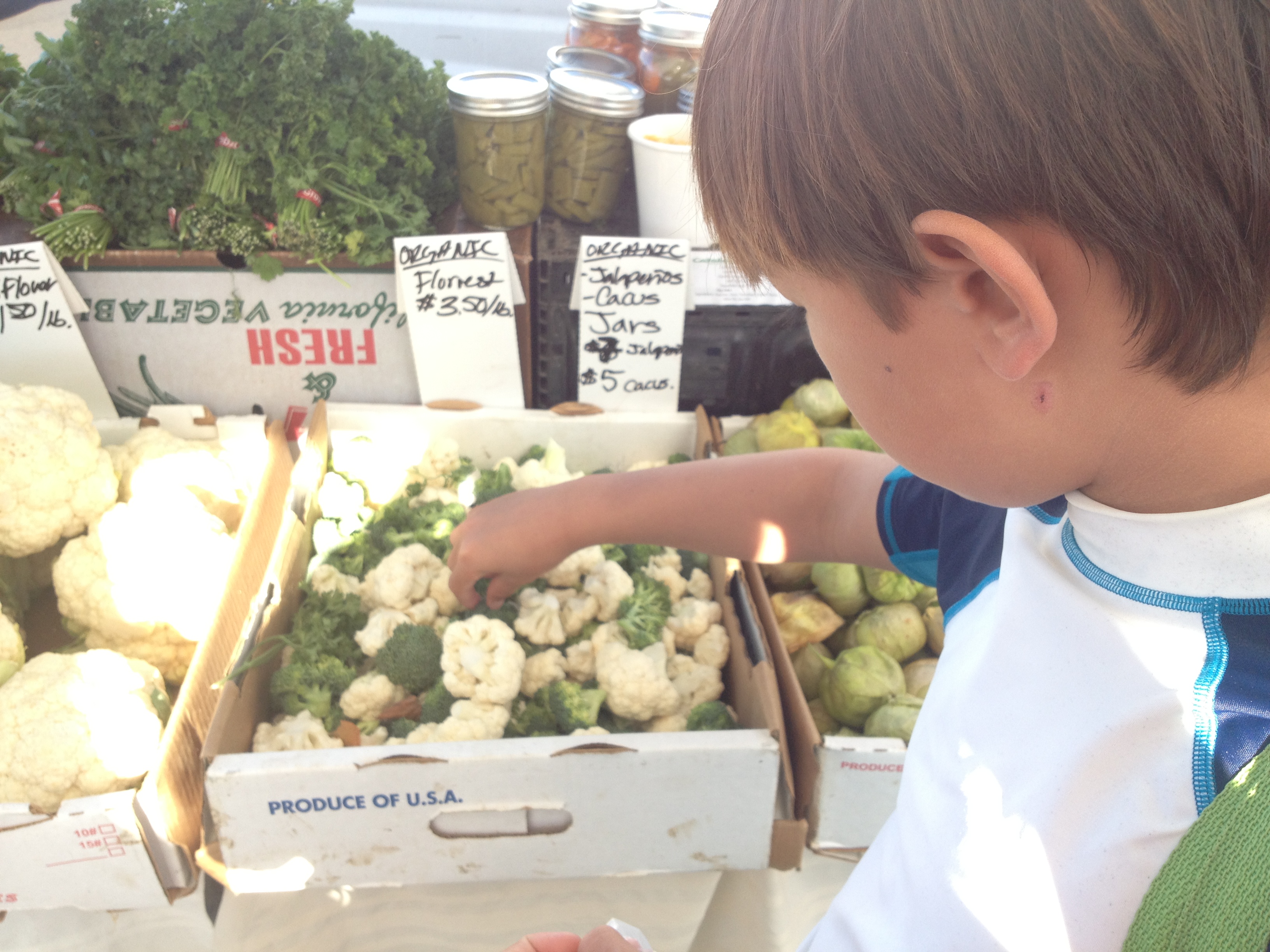 There are a few ways I can get my kids to eat their veggies. They usually involve Chinese or Japanese flavors. I've been known to take the family out to a sushi dinner, just to get my kids to eat a few battered broccoli or carrots.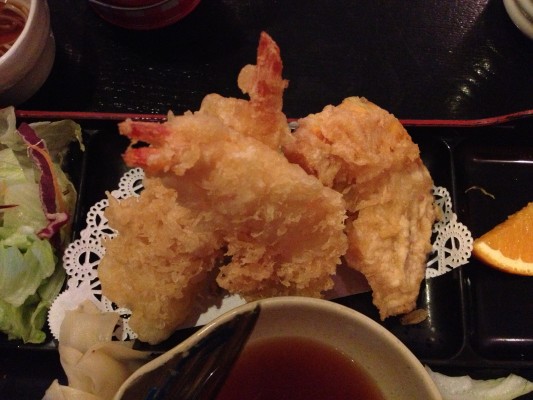 While I know that tempura is pretty much a slam dunk for my kids, I've shied away from cooking it at home. As I've mentioned before, the whole deep-frying thing scares me. And vegetable tempura is known for being hard to pull off, even for seasoned cooks.
But a mama's gotta do what a mama's gotta do.
So with some tips on tempura making from Japanese cooking blogs Just Hungry and Just One Cookbook, I decided to try it out.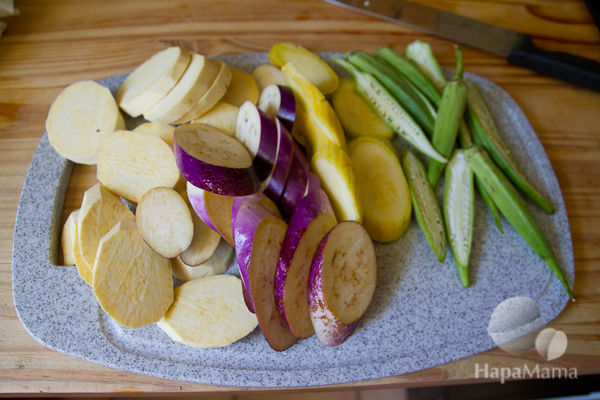 I used sweet potatoes, Japanese eggplant, yellow squash, okra, and onion. To Little Brother's disappointment, we had already finished all the broccoli in the house.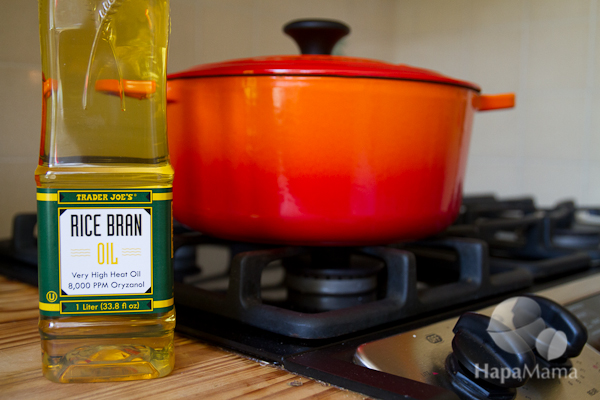 For the oil, I've seen rice bran oil often sold in gallon jugs at Asian markets for the purpose of frying tempura. Rice bran oil, which is now available at Trader Joe's, is a great nutty-flavored medium for cooking.
While many Japanese restaurants in America serve tempura with a thick, almost chewy crust, I really prefer a light, shatter-in-your-mouth texture. Of course, that's really hard to achieve. Recipes for tempura batter can vary greatly, but I've gathered that the most important factors are to keep the batter cold and don't overmix it. I started by looking at Makiko's tempura recipe at Just Hungry, which yielded a very thin batter.
 Instead of cornstarch, I used sweet potato flour (the secret ingredient of Taiwanese fried foods) and added an extra tablespoon for good measure. I also added a few extra tablespoons of all-purpose flour after my first batch turned out thin.
While I was careful to let the oil reach it's ideal temperature of about 350 degrees before starting, I didn't check the temperature later on. Nor did I take any photos, because I was busy trying to dip vegetables in batter, lower them into bubbling hot oil, and take them out without scalding myself. After a few batches, the oil looked like it was boiling, so I reduced the heat. Big mistake. The tempura didn't brown up and the coating was soft. When I finally fished out the candy thermometer, the temperature barely reached 200 degrees. Oops.
So my first attempt at making tempura was not so successful. But, even bad tempura is still pretty good. And my kids ate a few vegetables anyway.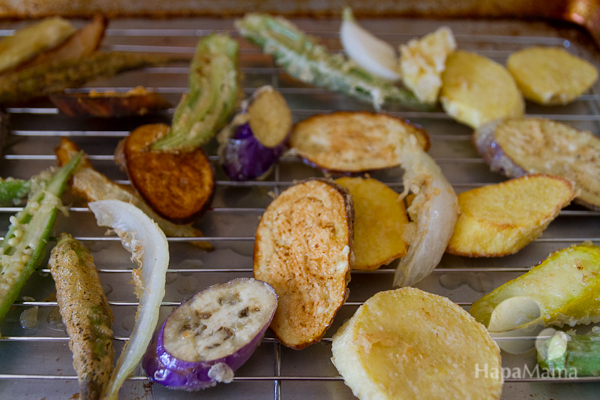 Let's Lunch is a monthly virtual potluck from my food blogging buddies around the world  For more veggie recipes, follow #LetsLunch on Twitter.
Or click on this link to buy a copy of Joe Yonan's Eat Your Vegetables and support independent bookstores and HapaMama!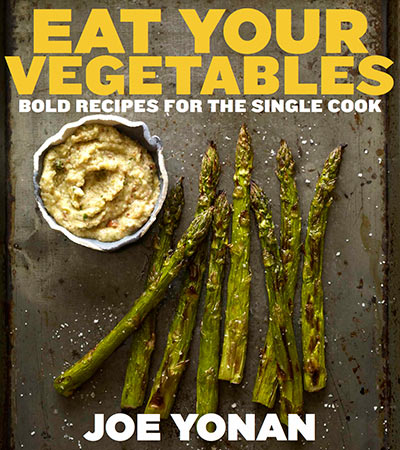 Shop Indie Bookstores