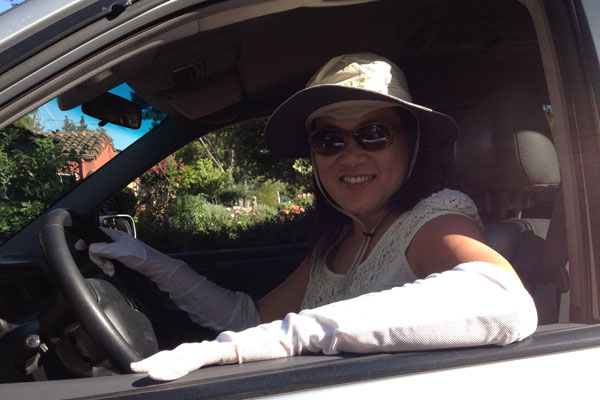 Yes, that is me. And yes, I am wearing a wide-brimmed hat and sun-protective gloves.
I have a confession to make. A few months ago, when I was at the Daiso store, I bought a pair of long white gloves. You know… the kind FOB-y Asian moms wear to keep the sun from tainting their milky white skin. I took them home and laughed with my friendsabout them, then stuffed them in the glove compartment and forgot about them.
Until now.
Why– after railing against the Asian penchant for fair skin and decrying the lightening potions and making fun of the women with UV visors– why oh why am I donning such gear?
You see, I'm getting old. Or at least, sun damaged.
A couple years ago, I noticed brown spots appearing on my cheeks. I blamed it on the hours I spent pushing a stroller around our neighborhood. And the summers I spent learning how to swim at the Blue Dolphin pool. I'm now vigilant about applying sunscreen every day. I might not be able to turn back the clock… but I can at least try to stop it from moving forward faster than it needs to. When my kids complain about getting slathered up before going to the pool or beach, I tell them that for me, it's part of getting ready in the morning– just like brushing my teeth or washing my face. After all, an ounce of prevention (that's how much sunscreen you should be applying each time) is worth a pound of cure.
Yet sunscreen is not without its flaws. For a while, I was rubbing SPF on my hands and arms before going for long drives. Then, my steering wheel and my iPhone cover started getting oddly worn down. And every summer, my kids and I get patches of eczema on our faces. Could all those things might be reactions to the chemicals in the sunscreen? I'm not a scientist, but I'm not ruling it out, either. We have switched for the most part to zinc oxide and titanium dioxide formulas, except for really heavy exposure days at the beach or camping. And you know what? The eczema has gone away. Our t-shirts aren't stained.
Even so, I still get lots of accidental sun exposure — this summer we've had some day camps that required a 20-30 minute commute, and I started to notice a farmer's tan starting. And then, last week, I was watching Big Brother's swim practice, and it was so warm and I was so tired and my legs were so pale and the sun felt so good, that I sat — in broad daylight.– without any SPF. And if felt good.
But I paid the price for it. The next day, my shoulder and legs were itchy, burning, red… and now I have the weird tan lines to show for it.
*sigh*
The relationship between the sun and Asian women is so complicated. Personally, I kind of like the look of tanned skin. But it's unhealthy, and then my Taiwanese relatives will cluck-cluck about how I look like a field hand.
Is it possible to have a safe tan? What do you do to protect your skin from the sun?