Has it gotten a little… boring… in the kitchen?
If you're like many parents, you probably have a usual routine. And I bet the usual includes a lot of pasta, only in the form of macaroni and cheese, bowties with melted butter,  spaghetti and meatballs.
But sometimes you need to spice it up a little.
Maybe you need to turn to the professionals. In this case, the World's Oldest Profession.
You see, this month's Let's Lunch theme is Seduction, in honor of Hot Curries and Cold Beer's steamy new novel The Djinn's Dilemma (Harlequin Noctourne Cravings).
So put the kids to bed, turn down the lights, and fire up the stove. This spaghetti's for adults only.
Pasta Puttanesca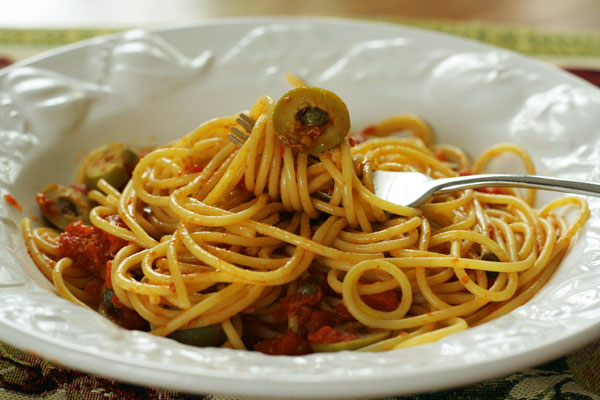 Ingredients:
1 can tomatoes
2 cloves garlic
4 fillets of anchovies (drained canned tuna can be substituted, but the sauce will take on a different character)
1 tsp. capers
1/4 c. sliced olives
olive oil
1 lb. dry spaghetti
chopped fresh parsley, if available
Directions:
Mince garlic.
Cut anchovies crosswise into about 1/2″ pieces.
Heat 2-3 Tbs. olive oil in a large skillet, add garlic. When garlic is golden and aromatic, add anchovies, then olives and capers.
Add canned tomatoes, breaking up large pieces by squeezing them through your fingers, if necessary. Reduce heat to simmer.
Meanwhile, boil spaghetti.
Add cooked, drained spaghetti to the skillet and toss to coat. Garnish with parsley and serve.
More Let's Lunch, Seduction Edition: