Welcome to Taiwan Tuesday!
I took over 1000 photos while travelling in Taiwan, and today I'd like to share with you some tips on how to control your camera's shutter to really capture the look of speed.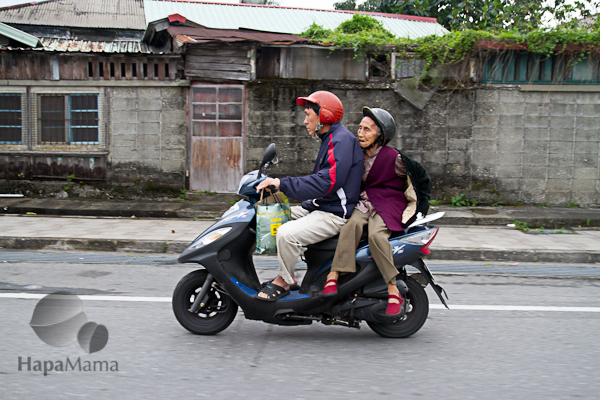 Remember this image? It's one of my favorite photos from our visit to Hualien. Everything about it — the old building, the moped, the lady riding side-saddle — reveals a little something about the culture. I use a Canon 7D, and I shoot mainly in manual mode, so I can maximum control over the exposure and depth of field.
See how the whole photo is crisp and both the people and the background are in focus? I took this photo out of the window of a taxi when both the motorcycle and the car were coasting to a stop. It was an overcast day, my settings were ISO 800, f 3.5, 1/250. Usually I wouldn't expect the background to be so in focus at a fairly wide aperture, but I think it helped that my lens was zoomed almost all the way out at 26mm.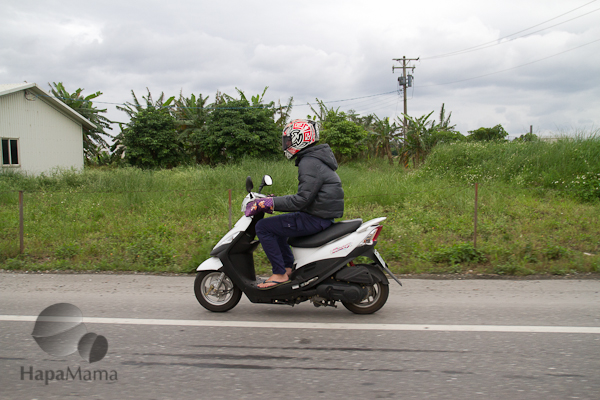 Here's another shot, taken with ISO 800, f 3.5, 1/500. The cab and the motorcycle were traveling at highway speeds, but both the motorcycle and the background are sharp. Sometimes, as with the picture of the couple riding the moped in front of an interesting old building, you want to see the background clearly. Other times, as with the guy riding next to an empty field, the background doesn't add much. Frankly, it's kind of boring.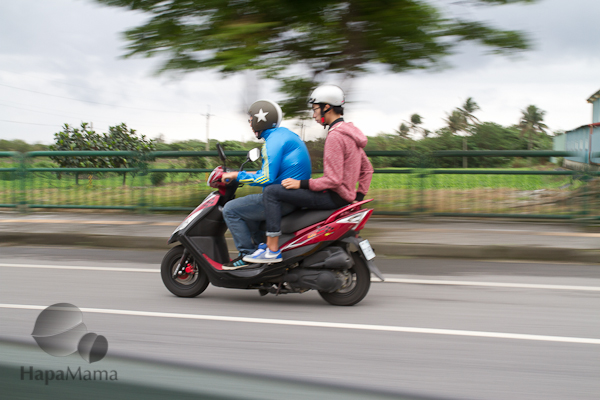 So the next day I had a little more fun. We had a long cab ride from Hualien to Taroko Gorge, and the taxi driver was doing what felt like 60 mph. I already knew what a motorcycle looked like when photographed at a fast shutter speed, so this time I experimented with setting the shutter as slow as reasonable for a hand-held shot. ISO 250, 30mm, f13, 1/50. The cab was driving at the same speed as a the moped, so the riders are in focus, but now you can feel the wind whipping through your hair as the fields and trees fly by. MUCH more interesting.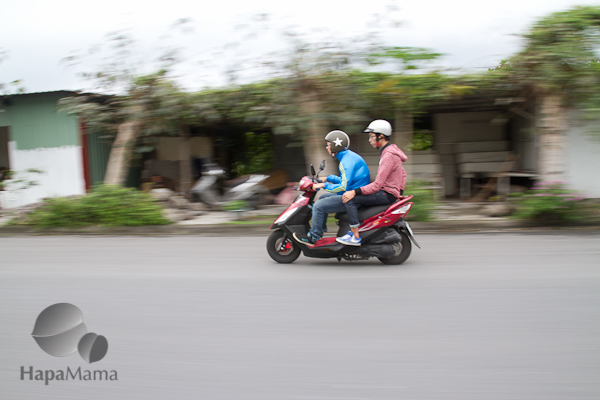 Since I liked the way the last shot turned out,  I decided to push it a little further dropping the shutter speed down to 1/40 and whooo wee! Hold on to your helmets!
I hope you enjoyed this lesson in controlling your camera's shutter speed. If you own a dSLR, do you like to experiment with your shutter speed (or do you stay in one of the automatic modes)? You can tell me, I won't judge.