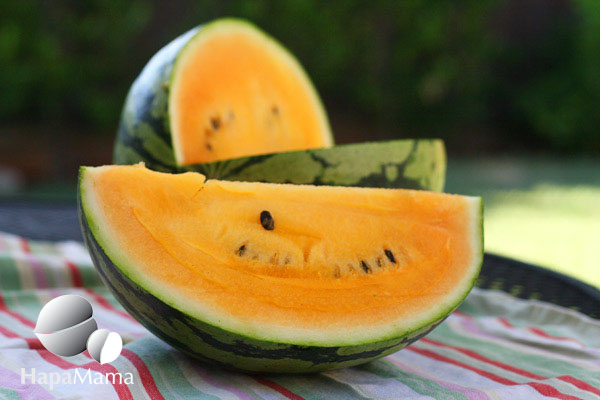 It's time for Let's Lunch, an online potluck from the food blogging world.
Our current topic is Farmer's Market, and I'm pleased to share with you a colorful story of food, family and cross-cultural adventures.
No, don't adjust your monitor! Yes, that is a watermelon —  big, round, ripe and… yellow.
The iconic fruit of summer is a huge oval, cut into wedges or perhaps slices, usually dotted with black seeds, and always red. Except when it's not. Like other red fruits and vegetables (think tomatoes, carrots, bell peppers) the watermelon also comes in other shades, such as the Yellow Crimson and the Orangeglo (which I have yet to find). Besides being a conversation starter, these yellow fruits are also often sweeter and less acidic than their rosier cousins.
I craved watermelon during my first pregnancy, especially during the first few nauseating months, when everything smelled revolting, with the exception of Lay's potato chips — and watermelon. Which was very confusing to my mother, who was constantly asking whether I was craving salty or sweet, to guess whether I was carrying a boy or a girl.
My mother had also craved watermelon when she was pregnant with me. One day, she showed up at my doorstep with two large melons from the local Chinese market. They looked similar enough on the outside, but, "This one is sweeter ," she informed me. "It's yellow."
How many people it takes to eat a whole watermelon?  Well, I was the walking, talking punchline: one pregnant woman. Not only did I eat the entire yellow watermelon, but the red one, too. Over a few days, mind you. Hey, at least it wasn't ice cream!
And for the next punchline: just how big did my belly grow? As big as a watermelon, of course, despite the fact that the fruit is over 90% water* and is reported to be a mild diuretic, according to the National Watermelon Promotion Board The fruit is also high in lycopene and vitamins A, B6 and C.
I've long been a fan of watermelon with a sprinkling of salt. My grandfather, who was a Professor of Food Science, explained that a little bit of salt brings out the sweetness in underripe fruit and makes perfectly ripe melons candylike.
While a perfectly ripe watermelon with a dash of salt is close to perfection, it's not much of a recipe. So I've taken a cue from the Mexican fruit vendors found on many street corners in San Jose, California. Their fresh fruit salad, or pico de gallo, consisting of some combination of melon, cucumbers or jicama is seasoned with salt, chile powder and a squeeze of lime. A perfect combination of salty, sweet, and spicy.
Yellow Watermelon with Red Chile
Ingredients: 
1/8 Yellow Watermelon
1/4 lime, cut into wedge
Dash of Pico de Gallo seasoning (if not available, substitute cayenne pepper and salt)
Directions:
Cut the watermelon into cubes and squeeze lime juice all over it. Sprinkle with as much Pico de Gallo seasoning as you like. Enjoy immediately.  Serves one.
A version of this article originally appeared on Open Salon.
For more Farmer's Market inspired recipes, follow #LetsLunch on Twitter or check out these links from my foodie friends.
Annabelle's Mixed Berry Shortcakes at Glass of Fancy
Charissa's Curried Roasted Cheddar Cheese Cauliflower Soup, Gluten-Free at Zest Bakery
Joe's Peach Jam with Lemon Basil at Joe Yonan
Juliana's View from Les Halles Farmers Market at Chicken Scrawlings
Linda's Farmers' Market Fruit Galette at Spicebox Travels
Linda's Zucchini or Cucumber Quick Pickles at Free Range Cookies
Lisa's Eveleigh Farmers' Market (in Australia!) Winter Salad at Monday Morning Cooking Club
Lucy's Sweet Auburn Curb Market (in Atlanta!) Tomato Gravy at A Cook and Her Books
Nancie's Carrboro, N.C., Farmers' Market Vegetable Plate "Nicoise" with Spoonbread atNancie McDermott
Patricia's Kim-Chi-Style Corn at The Asian Grandmother's Cookbook
Renee's Sweet and Sour Salad at My Kitchen and I