A few months ago, I learned that the Mixed Remixed Festival was going to be held at the Japanese American Museum in June — one week before the V3 Digital Media Conference was also going to be held at JANM. Since flying to LA two weeks in a row would be pricey, I came up with a brilliant idea: why not make a ROAD TRIP to Southern California? I pitched it to HapaPapa as a family vacation, but he was worried that he couldn't take that much time off of work. So then I came up with another bright idea: I'LL DRIVE TO SOUTHERN CALIFORNIA BY MYSELF! WITH TWO KIDS!
This may not be a big deal for many road warriors, but I really don't like to drive. Especially in LA.
While our family goes to Southern California all the time, I'm never the one behind the wheel. I might take over for an hour or two, but I never drive the whole way. I was not raised or encouraged to be a confident driver. In my family, men drive. Women find men to drive them places. When I was a teenager, for some reason, my parents were more assured of my safety if I was riding with a male — didn't matter who — than if I were behind the wheel. Any guy, whether a 16-year-old with a freshly minted license or a dirty old man — was automatically a more capable driver than I was. Or theoretically was, since I didn't have too many opportunities to find out just how good I might be. Before last week, I had driven the entire way from the Bay Area to LA exactly once, the year I graduated from college.
The thing I was really afraid of was not the wide open highway–in my one-man band reporter days, I often sped across the high desert of southern Idaho to news stories hundreds of miles away. I was most terrified of the weaving, swerving, tailgating at 80 mph, left-lane exiting mess that is the LA freeway system. To add to my fear, a few years ago, we were sideswiped by a teenager talking on her phone while on our way to the Long Beach Aquarium.
But I really wanted to go to these conferences, and we didn't have any other plans for the week.
So why not? I can never resist a knife-fight with a dragon.
We left at the crack of dawn to beat the traffic. Which was a great idea. Such a great idea, that once we hit the I-5, it seemed that the entire state of California had the same idea. I had big plans to eat lunch at a pupuseria in the Central Valley, but after getting stuck in a traffic jam for two hours, I decided McD's would suffice.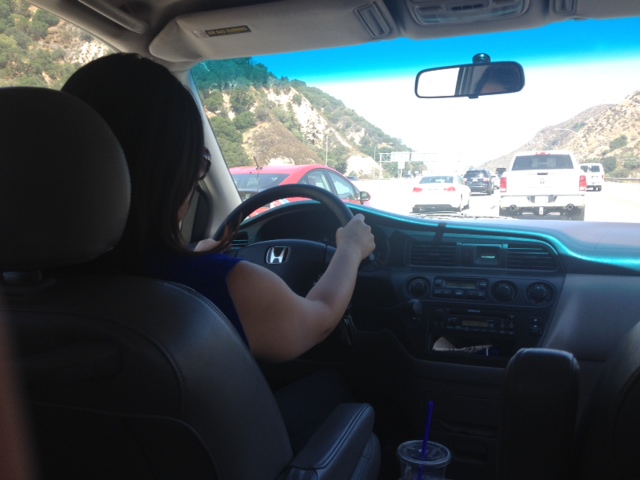 Yes, it's really this bad. Everywhere.
So I relied on Siri and Google and Waze (which makes these noises that sound like you're running over a gold coin in Mario Karts) to tell me where to go, which explains why I missed turns Exit right? Right now? How about giving me some advance notice, so I can get out of the carpool lane? ended up taking a detour through the warehouses of the City of Industry, and ended up at the WRONG Din Tai Fung. Pro tip: there are THREE Din Tai Fung restaurants in Glendale, so make sure you type in the right address.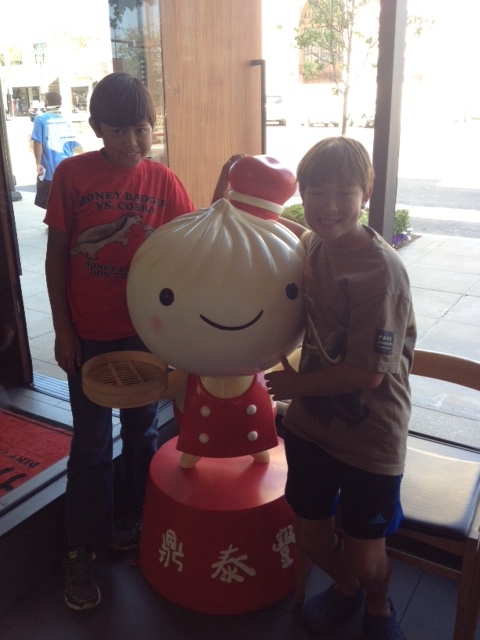 The xiao long bao were still delicious, though. We gobbled up four steamer trays of dumplings!
Oh, and some pictures of the conferences:
I kept staring at this one little girl who was in the audience during my panel. She was really cute, and I could tell she was an actress. My mind kept wanting to think she was the girl from the Cheerios commercial, but this girl was more of a tween. About an hour later it hit me: Rue. From the Hunger Games. If I had my wits about me, I would have taken a picture with her.
Speaking of taking pictures with people, it seems I will never get the whole blogger "Let's take a selfie" thing down. I completely forgot to take any selfies at the V3 opening reception, but did shoot this picture of the lovely decor.
Not to be pithy… but I have to admit, after driving down from the Bay Area and then driving around LA a few times during the week, I may actually be a bit more relaxed about Southern California traffic.
But I'm still glad to be home ;)