October's Let's Lunch focuses on guilty pleasures — those things we're not supposed to eat, but we do anyways…
No one is supposed to like cafeteria food. And the stuff dished up in the school lunch line is especially vile. At my high school, the offerings usually consisted of some dry submarine sandwich of mystery meat and surplus processed cheese. There were many days when I survived on orange sodas and Snickers bars from the locker room vending machine.
But there was one shining light among those dreary meals: peanut butter chews. Mention them to any graduate of my alma mater — or any other high school or junior high in the area — and their eyes will soften, they'll smile fondly, and it won't matter if you were captain of the football team or the debate team. These peanut butter bar cookies played such an important role in the campus culture that they were even served (on silver platters) at our 20 year reunion — the only part of the dinner which was not catered by the hotel rented for the occasion.
Back in my school days, these treats were baked on-campus, filling the corridors with their nutty aroma. Served in rectangles as big as two decks of cards, they were handed through the snack bar window on a sheet of waxed paper with a shiny imprint of the bar. Like a giant peanut butter cookie, but with a generous dose of rolled oats to cut the sweetness, the bars were often dusted with powdered sugar. Sometimes, they were coated with a thin layer of chocolate icing, tasting like a homemade Reese's peanut butter cup.
I've never been able to find this exact kind of peanut butter chew anywhere. There are many recipes for bar cookies involving chocolate and nuts, many of them no-bake versions involving graham cracker crumbs or crushed corn flakes. But those are not the peanut butter bars I remember. The cafeteria's recipe was printed in an old yearbook, but I haven't been able to find that particular volume in years. Apparently, I wasn't the only one nostalgic for this taste of youth, as the San Jose Mercury News in 2005 fielded a reader's request for the peanut butter chews dished up in local school cafeterias. Knowing that lightning doesn't strike twice, I clipped that article and saved the yellowing paper in a binder with other old recipes.
Peanut butter bars probably won't be on the menu by the time my boys reach high school. They are part of the peanut-free, gluten-free generation. The idea of a campus that serves peanut butter will seem as outrageous as one with an official smoking area. So for now, these peanut butter chocolate bars will be my guilty pleasure.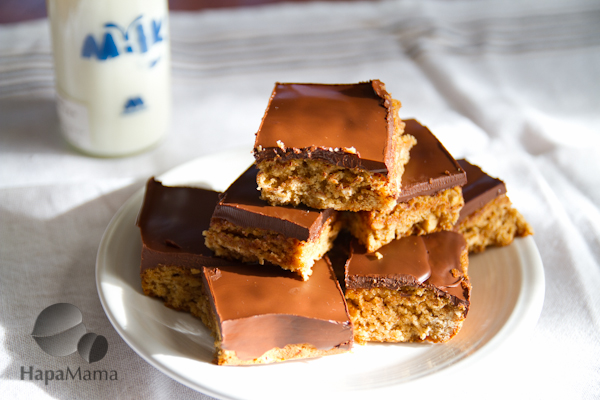 Peanut Butter Chocolate Bars
I've adapted this recipe published in the Mercury News slightly to make it a little healthier (who can eat like a teenager anymore?) by upping the brown sugar to white sugar ratio and using white whole wheat flour. Also, the original recipe didn't include a chocolate topping, so I've improvised using semi-sweet chocolate chips with a little coconut oil to keep it spreadable.
Ingredients
1/2 stick of butter
1/2 c. white sugar
1 c. brown sugar
2 eggs
1 tsp. vanilla
1/2 c. natural peanut butter
1 c. white whole wheat flour
1 tsp. baking powder
1 1/2 c. rolled oats
1 1/2 c. chocolate chips
1/4 c. coconut oil (a little more in cold weather, less in hot weather)
Directions
Preheat oven to 375 degrees.
Cream together butter and sugars until light and fluffy.
Add egg and vanilla and mix well.
Add peanut butter.
Add flour, salt and baking powder, and mix on a low speed.
When the other dry ingredients are incorporated, add oats. The dough will become very thick and you may want to stir with a spoon, instead of a mixer.
Line a 9×13 inch baking pan with parchment paper or spray lightly with oil.
Spread the dough in the pan. The dough is hard to spread, and it helps if you butter up your hands and press it outward into the corners.
Bake 15-18 minutes.
While bars are cooling in the pan, melt chocolate chips in a double boiler and stir in coconut oil until everything is melted and mixed together.
Pour mixture over the whole pan of bars and allow it all to cool before cutting into squares, or large rectangles if you're really decadent!
For more guilty pleasure, check out Let's Lunch — a virtual potluck from food bloggers around the world. Follow #LetsLunch on Twitter or visit one of my blogging buddies for more great stories and recipes!
Cheryl's Japanese Choco Bites at A Tiger In The Kitchen
Emma's Biscuits and Gravy at Dreaming Of Pots And Pans
Lisa's Mars Bar Slices at Monday Morning Cooking Club
Betty's Purple Yam Jam at Asian in America
Lisa's Nutella Cookies at Open Salon
Anne Marie's Breakfast Club Sammy at Sandwich Surprise
Lucy's Cheesy Apple Casserole at A Cook and Her Books
Linda's Dark Chocolate Whoopie Pies at Spicebox Travels
Tammy's "SPAM" at Insatiable Munchies