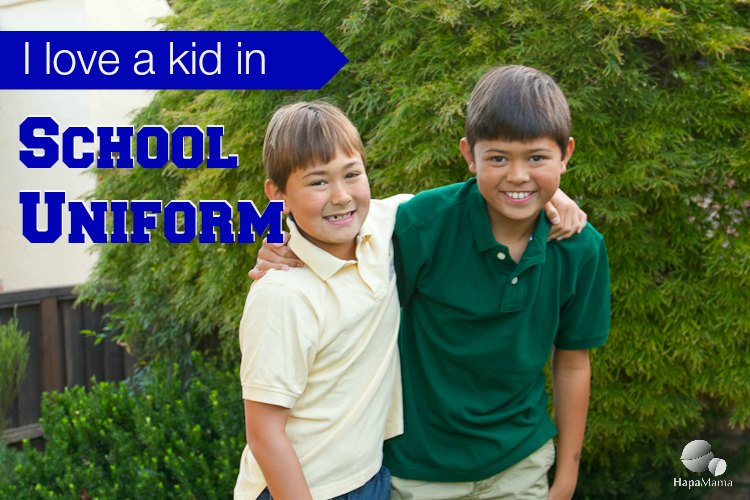 One of my favorite parts of going back to school is seeing my kids with their fresh haircuts and crisply pressed uniforms. We're not parochial or prep school people. We are very much a public school family – both my husband and I are products of the California education system – and our kids are enrolled in the neighborhood schools, too. But when it comes to dress codes, the nuns knew what they were doing.
Back to School shopping, circa 1979
My mom and I would go to the Sears or J.C. Penney to inhale the scent of fresh popcorn and try on pink Toughskins and corduroy culottes. I particularly remember a pair of burgundy cords I had during my fourth grade year. I felt like a million bucks in them. Until I moved to my new California school in the middle of the year and met my new classmates, with their cheeky running shorts and rainbow shirts. Multiply that awkwardness exponentially on the evening of our class performance, when I was the only one wearing Stride Rite Mary Janes in a sea of wedge sandals. Instead of concentrating on long division and state history, I was embarrassed that I was the only fourth grade girl with her bum fully clothed.
This little bit of childhood trauma helps explain why I am a die-hard fan of school uniforms. Replace the Jordache jeans with Hollister sweatshirts and toss in a few "Girls hate math" t-shirts, and things really haven't changed all that much. Luckily, my own children have never experienced this kind of sartorial joy and agony of shopping for that first day of school outfit, because they attend a public school that requires uniforms.
Click on over to Mom.me to see how easy Back to School shopping is for me… and why I love school uniforms so hard. And share with your friends if you can relate!