This homestyle dish is Chinese comfort food!
One of my favorite Taiwanese foods is yu beng, sesame oil scented sticky rice. Also known as yu fan in Mandarin or naw mai fan in Cantonese, it's a staple comfort food in Chinese households — and also something that many immigrant families use as a stuffing in their Thanksgiving turkey.
There are many ways to prepare this dish. My mother usually uses diced pork, but I've also grown to like the succulent decadence of having little bits of  Chinese sausage. Another option is to use Chinese dried oysters. I've seen some versions flavored with onion, garlic and ginger, but in my family's recipe uses only shallots. Roasted chestnuts, water chestnuts or even boiled peanuts can add some nutty texture.
In my family, a key ingredient for this recipe is dark sesame oil — not the regular kind used for dipping potstickers or drizzling over noodles. The darker oil has a much nuttier, almost smoky flavor. Recently, I bought Wei Chuan brand dark sesame oil (pictured above, being poured into the bowl), and it was not as dark in color or strong in flavor as some of the other brands I've used.
Also Read: How Our Mixed Race Family Celebrates Thanksgiving
Some cooks steam the rice before stir-frying it with the aromatics, others simply soak it for an extended period and then work the seasonings and liquid together in the pan. And a more modern way is to put all the ingredients in a rice cooker and let it steam unattended.
Well, friends, I have been doing my research! I've tried making this many different ways to find out the tastiest and most true-to-tradition method. I've tried shortcuts, such as soaking the rice for only a few hours, hoping I could coax the grains to softness by continuously adding liquid and stirring, similar to making risotto. That resulted in a mushy, sticky (and yet still delicious) mass. I tried sautéing the quick soaked grains in sesame oil and aromatics, as in making a pilaf, and then letting the mixture finish steaming in a rice cooker. That was the easier method, although the grains remained too individual and seemed more like regular short-grained rice, rather than developing the chewy "Q" factor of glutinous rice. And in case you're wondering, undercooked rice DOES NOT fluff up while  roasting in the cavity of a turkey. Not that anyone's done that before.
I've decided that the method I like best is to soak the grains overnight, and then sauté the drained rice with the meat and aromatics, finishing by stirring gently while it steams in the pan.
So whether it's a Thanksgiving feast or a weeknight meal, here's my recipe for several ways to make sesame oil rice!
Sesame Oil Sticky Rice
Serves 4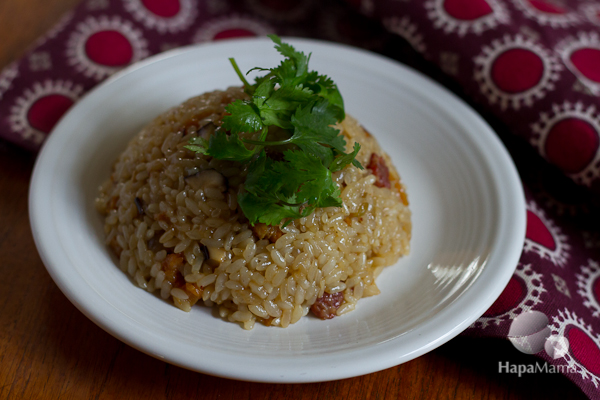 Ingredients
3 c. uncooked sweet (or glutinous) rice
1 large shallot, diced
4 Chinese sausages, diced
6-8 dried shiitake mushrooms, reconstituted (reserve the liquid)
1/4 c. dried Chinese shrimp (chop roughly if large)
1 can water chestnuts, diced
3 Tbsp. dark sesame oil
3-4 Tbsp. soy sauce
salt, to taste
Directions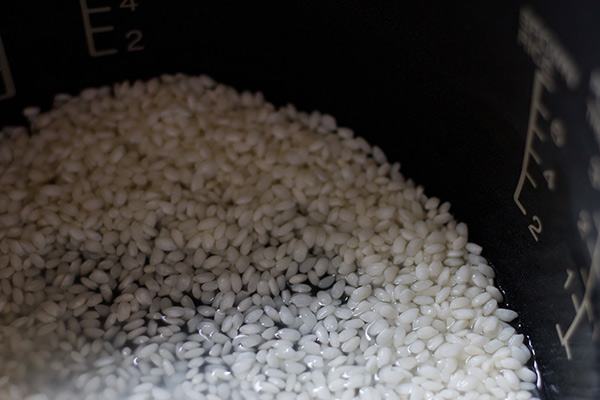 1. Soak the rice overnight in water just enough to cover by one inch or so. The grains should look whiter and larger when they have absorbed enough water. Drain excess liquid thoroughly before cooking.
2. Add 1-2 tablespoons of cooking oil to a large wok, frying pan or Dutch oven (which is nice for cooking the rice). Saute the shallots, then add sausage until the fat is rendered. Then add mushrooms, shrimp, and water chestnuts.
3. When the aromatics are very aromatic, add a part of the sesame oil to the pan. Then add the drained rice. Gradually add the rest of the sesame oil and soy sauce, seasoning with a little salt if desired.
4. Strain the mushroom soaking liquid, or simply pour off most of it into a large measuring cup and discard the dregs with all the grit and solids. Add enough water to bring it to three cups total liquid.
5. Option a) If you want to make your yu beng in a rice cooker, simply add the rice mixture to the machine's insert and add enough of the mushroom liquid to reach the 3 cup mark on the inside of the pan. Then set your machine to cook as usual. You're done!
Option b) Gradually pour the liquid into the rice mixture, stirring to make sure the grains don't get stick to the bottom of  your pan. Dutch ovens can retain a lot of heat, so if you are using one be especially careful not to let the rice scorch. Turn down the heat so the mixture is barely at a simmer, and gently turn and stir the rice so the liquid is evenly incorporated. I think this stirring motion is what develops the chewiness in the grains. Cook this way until all the liquid is absorbed, about 30-40 minutes.
6. At this point, your rice is ready to stuff into your bird! Or you can simply serve as is. One traditional way to present yu beng is to mold it into a rice bowl, and then invert it onto a plate. Garnish with chopped cilantro. Enjoy!
For more sticky rice recipes, check out my post Chinese Food for Thanksgiving