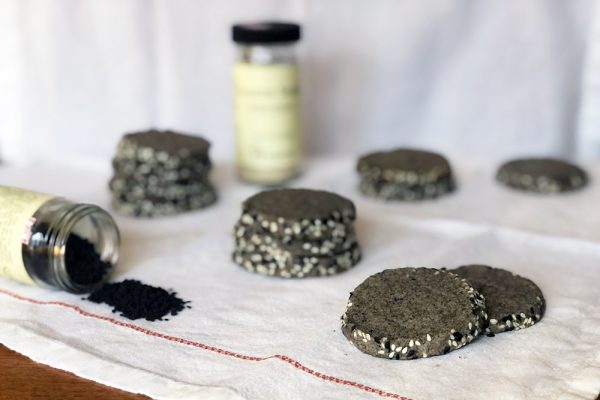 These shortbread cookies are earthy, nutty, and slightly salty. A bit of buckwheat flour accentuates the hearty flavor of the black sesame powder and gives the cookies a sandy texture. The edges are rolled in two kinds of sesame seeds for crunch and a pretty trim. Slice and bake dough is great to keep on hand for a quick dessert.
Ingredients
Makes approximately 2 dozen cookies
1 c. butter
2/3 c. sugar
1 1/2 c. All-Purpose flour
4 Tbsp. buckwheat flour
1/2 c. black sesame powder
1 tsp. sea salt (fairly coarse, I used Hawaiian sea salt)
2 Tbsp. white sesame seeds
2 Tbsp. black sesame seeds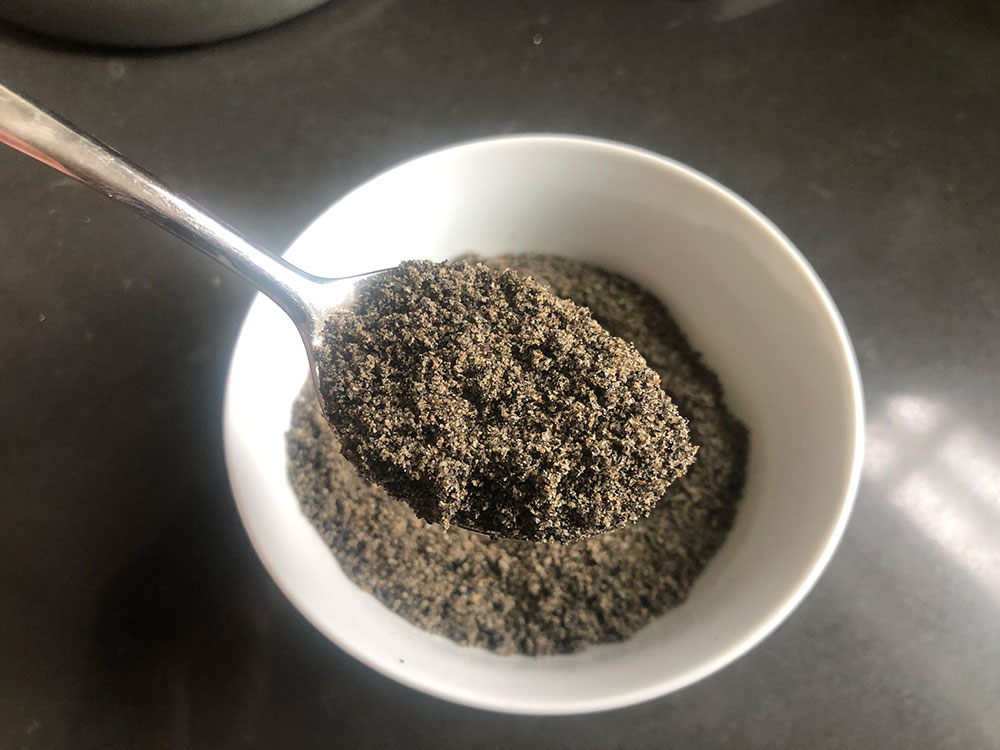 Directions
Cream butter and sugar in a mixer
Add the AP flour and buckwheat flour until combined
Add the black sesame powder and salt, and mix on medium speed until thoroughly combined and the dough sticks together.
Divide dough in half and shape into two logs, approximately 2″ in diameter. Wrap each in wax paper and chill in the refrigerator for one hour
When dough logs are firm enough to handle, but the surface is still soft, remove from refrigerator
Unroll the wax paper and sprinkle the two kinds of sesame seeds over the log and around the paper. Roll the log in the seeds so they are coated evenly.
Wrap the logs in wax paper again and chill for one more hour or up to three days. Double wrap the wax paper covered logs in plastic wrap, if chilling for more than a few hours.
When ready to bake, preheat oven to 325 degrees.
Remove dough from refrigerator and let sit at room temperature until soft enough to slice. This may take 10-30 minutes, depending on how long they have been chilled.
Slice into 1/4″ rounds and place on a cool baking tray.
Bake for 20 minutes or until edges becomes slightly brown and the centers are set.
Cool on the tray for 10 minutes and then move to wire rack.
These cookies keep well in a tin and can hold up to shipping.
Black sesame powder can be found at a Chinese or Japanese grocery, usually near the beans or grains
Also try my recipe for Spiced Shortbread Cookies!