It's Let's Lunch time! This month's edition features snacks for watching sports. If you know me at all, you know that I'm not the best person to invite to your Superbowl party. That is, unless you want someone to talk during the game and only watch the commercials, and then make commentary about what is trending on Twitter. But I do bring good food. For me, the tailgate party or the snack table is the main event.
With Little League season starting up soon (in addition to Tae Kwon Do, swim team, band…) I'm on the lookout for simple, home cooked meals that we can eat after a practice. My mom used to make American pot roast on a regular basis when I was growing up. But truthfully, nobody really liked it. It was rather tough and bland, bland, bland. There were a lot of leftovers, which mom repurposed as a Chinese roast — braising it a second time in a bath of soy sauce, ginger and star anise. Then it was sliced, similar to the beef on a Chinese banquet cold platter and served over rice — or sandwiched in a Chinese bread, such as a flaky shao bing or fluffy steamed mantou. On time, we visited some relatives, who served Chinese roast beef in sandwiches on King's Hawaiian bread. Mmmm.
With those memories in mind, I've created a simple weeknight (or game day) version of those beef sandwiches of yore, turning them into snack (or kid) sized sliders and garnishing them with traditional Taiwanese toppings. This recipe could be easily adapted to a slow cooker, as well, so it can cook while you're driving kids to their sports events.
Taiwanese Beef Sandwiches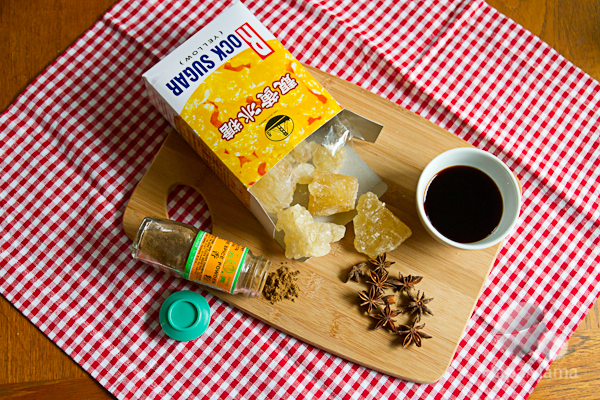 Ingredients
1-2 lb. top round beef roast
grapeseed or canola oil
1/4 c. soy sauce
1 Tbsp. rice wine, such as Shao Hsing jiou
1/2 c. water
1 small chunk rock sugar or 1 tsp. white sugar
2 slices ginger
2 cloves garlic, smashed
2 green onions, cut into 3-inch sections
1 tsp. five spice powder
1 tsp. salt
a few star anise
a few peppercorns, Szechuan or black
9 soft Asian style dinner rolls, such as from Sheng Kee or Sogo bakeries. Substitute Hawaiian rolls or some other sweet, eggy roll such as pan de sal
2 green onions, sliced
a few sprigs cilantro, roughly chopped
Mayonnaise (Kewpie, if possible) to taste
Directions
 Heat a small amount of oil in a heavy pan large enough to fit your roast

Mix together the salt and five spice powder, and rub into the beef
Brown the roast over medium high heat
Meanwhile, mix the soy sauce, wine,  and water.
When the meat has been caramelized on all sides, add the ginger, garlic and green onions to the pot and saute just until the flavors are released.
Turn the heat down and add the soy sauce mixture, along with the rock sugar and star anise.
Simmer over low heat for about two hours or until the roast feels done. I used a top round roast, which is a very lean cut and needs to be braised low and slow to tenderize it. You want the finished roast to be firm enough to slice, not shred.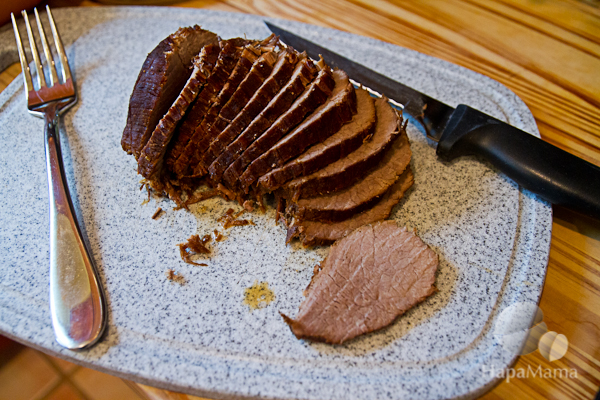 Let the roast cool until it firms up a bit and can be sliced cleanly into thin (less than 1/4 inch) slices
Split the rolls in half. I removed a 1/2-inch section from the middle of each roll so they wouldn't be too tall to eat.
Arrange a few slices of beef in each split roll, top with a dollop of mayonnaise and a generous sprinkle of green onions and cilantro.
Sit down, watch the game, and enjoy!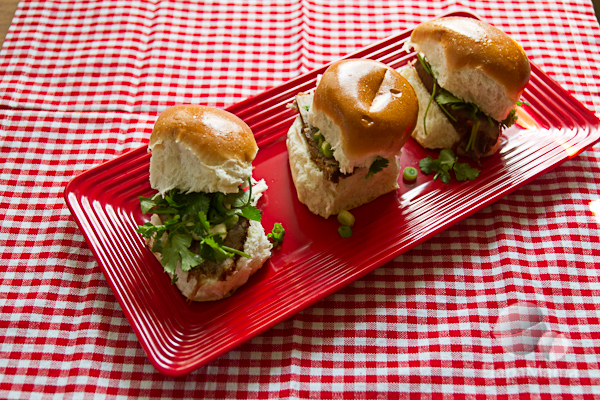 Let's Lunch is a virtual potluck in which some of my favorite food bloggers bring their best dishes to the table. For more game day munchies, follow #LetsLunch onTwitter, or visit the Monday Morning Cooking Club for a roundup of all this month's offerings.