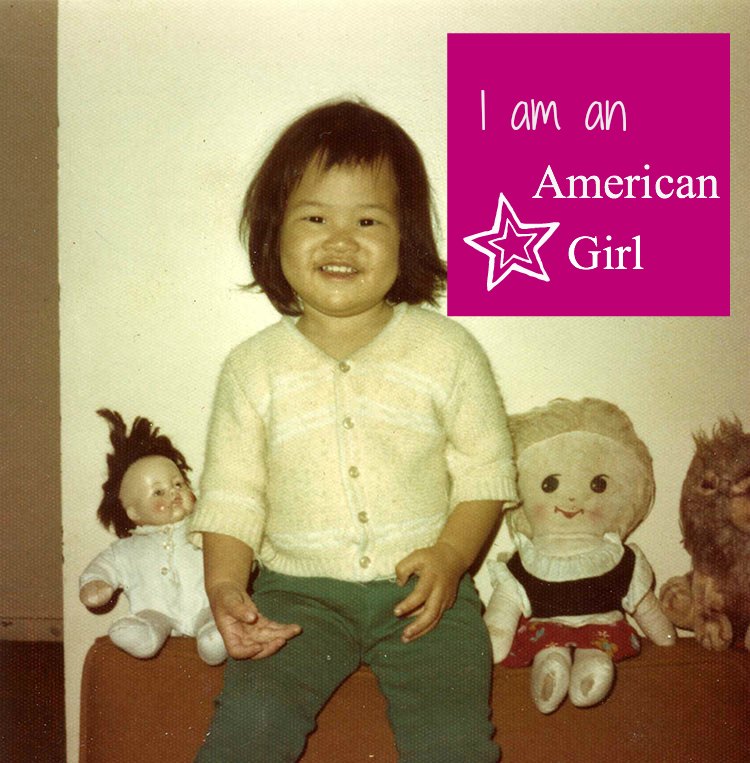 This is me, back in the 1970s. Notice I didn't have any dolls that looked like me.
American Girl, the maker of books, dolls and tea parties and hair salons for dolls announced that it is retiring its only Asian character, Ivy Ling. A pair of AAPI sisters, Taylor and Ayden Her have created a petition asking American Girl to create a new Asian doll, gathering nearly 2500 signatures. So far the company has not responded, and the Asian American advocacy group 18 Million Rising is creating a Tumblr asking people to send in their stories of real Asian American girls and women, hoping that will inspire the company to commit to creating a new, more relatable Asian American doll.
Here's what I think: the Asian American doll should be named Grace. After all, isn't that the most Asian of names? Unlike the character Ivy Ling, who lives in San Francisco Chinatown and was literally created as a sidekick to "hippie chick" Julie, I'd like to see an Asian doll with her own story and line of accessories. I shared my story of growing up as the daughter of post-1965 immigrants over at the OurAGStories Tumblr. My parents both worked full-time as graduate students and researchers at a Midwestern university. We lived in the Spartan apartment shown above, part of a student housing complex. My babysitter was an Egyptian neighbor, the wife of a medical resident. My sidekick was a little white boy named Damien, whose parents were hippies.
Stories are so important. We can buy our children indie toys and encourage children's authors of color… but we can also voice our opinions to major companies. While I don't have any daughters, I know that among my sons' classmates, American Girl dolls are so popular that there are tea parties dedicated to them and family vacations planned to be near an American Girl flagship store. I'm actually not that upset that Ivy Ling is being discontinued, as her story doesn't speak to my experience and I don't think the only Asian doll should exist only in relation to another character.
I hope the American Girl company will listen.