Growing up, I fancied myself quite outdoorsy – compared to other Asian kids, at least. My family's vacations centered around national parks, and our weekends were spent hiking at Quicksilver County Park in New Almaden ("Nature's health club," my dad used to call it.") Only I used to consider it more like nature's house of pain. My shoes and clothes would get muddy, my arms and legs would be swollen with mosquito bites, while all my friends were doing something much more fun — like watching reruns or going to the mall.
Apparently, the outdoors gene skips a generation. Of course, it helps that my husband is an avid hiker and camper, who will sit by the computer — one hand on the mouse — ready to pounce when campsite registration opens up. My boys love camping. The four year-old waxes fondly about last summer's trip to Sequoia National Park, "Sequoia is the best place on earth…" and the six year-old can't wait to gather sticks and rocks. The fact that our national parks are now outfitted with gift shops the size of Target doesn't hurt either (hey, they are my sons, too, you know!)
But when my husband suggested we go camping at Uvas Canyon County Park, just a half hour south of San Jose, I balked. After all, Uvas was one of those places I got dragged to as a child.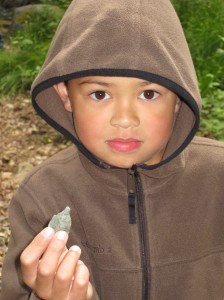 Isn't it near the reservoir where shirtless guys waterski with a beer koozie in one hand? Won't it be filled with local high school kids looking for a place to party? Plus, as my husband warned, it didn't look like there were shower facilities.
Camping itself has been somewhat challenging to me. Yes, there's the marshmallows and hot cocoa, and the scent of pine trees. Those were things I enjoyed during my family vacations or weekends at Taiwanese American Youth camp. But during those trips, we slept in cabins with indoor plumbing, complete with hot showers. Our last few two trips to Yosemite have been encountered unseasonably cold weather — rain and sleet on Memorial Day weekend? When you pack up a day early because pass might close for snow, that puts a damper on even hardy campers.
Even so, throughout this spring, I've been itching to get away from the world of school, bills, keeping up with the Joneses… and as the boys
grow up, they are getting more and more fascinated with TV, computer games, and whatever Bakugan or Lego they can acquire next. I've spent many a frustrating afternoon, trying to convince them that there are more exciting and worthwhile things to do, than just passively watch and consume stuff. "I wish we could just go somewhere with no television reception, stores, or even Internet," I've mused. And those are hard things for me to give up, too. It's not cartoons, Webkinz or Playmobil… but I do like my Facebook, mall and Jon and Kate gossip.
Oh yes, there is a place like that… and for a paltry campsite fee (and a lot of hard work packing, cleaning and cooking)… that simple life can be yours too. Okay, there was some grumbling over the weekend, like when the Memorial Day weather became unseasonably cool (40 degree nights in May? This is San Jose!) and by the second night, the basic bathrooms and lack of showers was beginning to grate on my nerves. But we discovered hidden waterfalls, scads of ladybugs, and brightly colored millipedes! And soon enough, the weekend was over. As we drove back to suburban sprawl and treeless expressways, I began to miss the woods. Maybe camping is in the genes, after all.