Uncommon Goods is providing a $75 gift card to one lucky HapaMama reader, but all the opinions below are my own.
Read on to find out more and enter to win…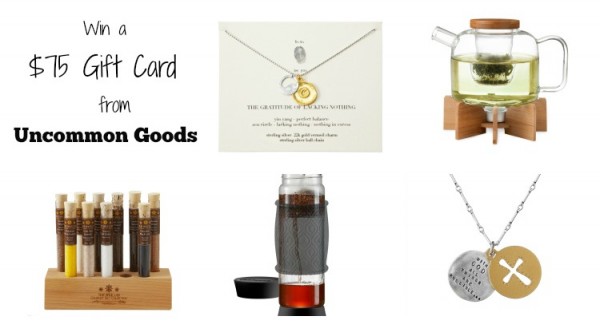 Everyone has a loved one who just isn't a mall present kind of person. Maybe they like things that are unusual, handcrafted or more meaningful than your usual gifts. The Uncommon Goods website sells things that are, well… unusual. They include creatively designed products, many of which are handmade and about one-third of which incorporate recycled materials, which would make fun gifts for moms, wives, or sisters, as well as for the guys in your life.
I was excited to see many kitchen items. Being a tea aficionado, I'd love to receive this clear glass tea pot:
Or this portable bottle for making hot or iced tea while you're on the road:
An avid cook (or chemist) might enjoy this set of test tubes filled with various salts, including ones infused with citrus or balsamic vinegar, or just the regional flavors naturally found in various parts of the country:
Sometimes you want a present that's little more lasting, and you can't go wrong with jewelry, like this inspirational sterling silver and gold plated brass necklace with a pendant engraved with a Bible verse:
Or this gold and sterling silver necklace inspired by Eastern religion:
Another great thing about Uncommon Goods is that they support a variety of environmental and women and children's causes, including RAINN, Women to Women International, and Reach Out & Read.
For more gift ideas for your mother, sister or wife, check out this page at Uncommon Goods.