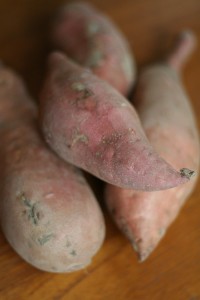 My husband and I celebrated our first Thanksgiving twelve years ago, just a few weeks after our honeymoon. When I asked if there was anything he particularly wanted as part of our holiday repast, he replied, "Just the usual."
To me, that meant candied yams, but no mashed potatoes — an assumption which led to a marital misunderstanding straight out of Father of the Bride. And it didn't help that I wanted creamed corn instead of green bean casserole. My husband is not a picky eater, but you see, his mother serves mashed potatoes — maybe scalloped — at every Thanksgiving feast. Steve assumed that as a couple, we would celebrate the same way.
However, my family's Thanksgiving traditions were quite different. It was usually just Mom, Dad, my younger brother and me. The meal itself tended toward standard American fare, as my parents spent their early years in the United States as graduate students in the Midwest. One constant was that the turkey was always accompanied by sweet potatoes. Unlike everyday mashed potatoes, the yam-pineapple-marshmallow casserole is holiday-only dish — its sweet spiciness simultaneously laughable and comforting. This very American dish seemed strangely appropriate for a family of Taiwanese immigrants, as the island's early settlers survived on the hardy orange tuber when rice was scarce and expensive.
Obviously, our ideas of tradition are what we've been exposed to growing up. The years that I have hosted Thanksgiving dinner, I've usually looked to Martha Stewart and Fannie Farmer for the uber-traditional and turned to Moosewood or San Francisco Chronicle for some newer ideas. But I'm realizing that I don't really incorporate any of my own family's culinary legacy into our Thanksgiving meal. Sometimes, I think that food is the last remaining tie that connects me to my heritage. I don't speak, read or write Chinese (Mandarin or Taiwanese) worth a hoot, and my knowledge of cultural customs is sketchy at best. This makes it challenging to instill in my kids any sort of awareness of their roots.
But the sweet potato is a culture lesson that goes down easily, thanks to its own spoonful of sugary goodness. Even my husband's family has come around to serving sweet potatoes — to appease us "out-laws" at least. Today, it's my turn in the kitchen. I will be stuffing the turkey with Chinese sweet rice. Next to it will be both mashed russets and candied sweet potatoes. My six-year old is a notoriously picky eater, he hasn't (knowingly) eaten a vegetable in years, except sweet potatoes. It must be in the genes.
 How does your family incorporates its various cultural traditions into the holiday season? HapaMama wants to know. Please comment here and have a thankful holiday!