November's Let's Lunch Theme is foods to share with friends and family, in honor of Lisa Goldberg's new cookbook Monday Morning Cooking Club. Based on the blog of the same name, the book shares the stories and recipes of six Jewish women who gathered each week to talk and cook. 
Check out my offering below, then scroll down to find links to my blogging buddies.
There's a reason every mom has spaghetti in her weekday dinner rotation, right? Brown meat, add sauce, boil noodles, done. Well there's an equally easy Chinese one-dish meal: zha jiang mien.
This is a dish my mother made quite often during my childhood, and I enjoy cooking it for my kids, as well. Just like pasta with red sauce, there are many ways to make zha jiang mien, and I'm sure every family has its own recipes. In Korea, the sauce tends to be very dark and sweeter. The Taiwanese version, which I'm sharing with you, is lighter in color and a bit spicier, although I also have some modifications to tone down the heat and make it kid-friendly. But all the versions rely on some type of soybean paste, which gives it a deep flavor and lots of umami.
My family's recipe included two types of bean paste: sweet bean paste and hot bean paste, plus generous amounts of sesame oil.
I've found that the hot bean paste, which is red and made from a mixture of chili and soybeans makes the sauce really flavorful, but too spicy for little ones.
L: Sweet Bean paste, R: Broad Bean sauce
When I make zha jiang mien for my family, I tend to substitute broad bean sauce instead of hot bean sauce. Adults can add a little chili sauce to their own servings if they want to turn up the heat.
And what I really love about  zha jiang mien is all of the toppings; Julienned cucumber, mung bean sprouts, scallions and cilantro provide a cool contrast to the spicy sauce and chewy noodles!
Zha Jiang Mien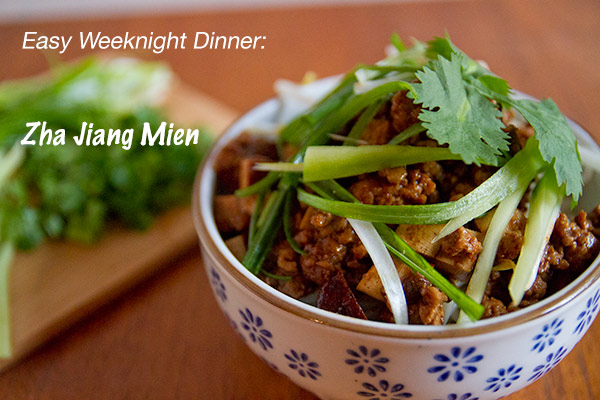 Ingredients: 
1 lb. ground pork or turkey
4 squares pressed bean curd, cubed
4 Tbsp. sweet bean paste (savory kind, not the sweet kind used for desserts)
4 Tbsp. hot bean sauce or broad bean sauce
2 tsp. sesame oil, plus more to toss with noodles
1 c. water
4 tsp. cornstarch
 2 green onions, julienned
1/2 cucumber, julienned
1 c. mung bean sprouts
a few sprigs of cilantro
cooked noodles
Directions:
Brown the meat in a few tablespoons of oil over high heat.
Add the bean paste and sauce, plus sesame oil. Stir-fry until fragrant.
Mix the water and cornstarch to make a slurry and add it to the meat mixture in the pan.
Stir constantly, until the sauce thickens.
Lower the heat, add tofu cubes and turn the mixture to coat all the meat and tofu with sauce.
Serve over hot noodles, and garnish with the vegetables.
Other possible toppings include shredded carrots, lettuce or cabbage. Sprinkle a few drops of chili oil or sesame oil over the vegetables, if you like.
Dinner's served!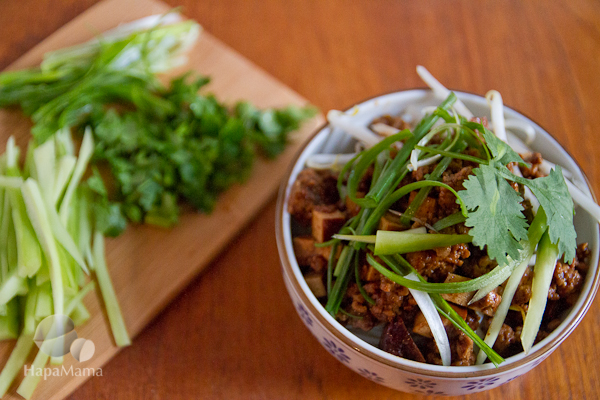 You can purchase a copy of Monday Morning Cooking Club
through Amazon, which may result in a commission for HapaMama.
For more great food stories and recipes, visit my Let's Lunch blogging buddies or follow #LetsLunch on Twitter!
Lisa's No Ordinary Meatloaf at Monday Morning Cooking Club
Anne Marie's Almond Cheesecake Sammy Bites at Sandwich Surprise
Pat's Red Curry Noodles at The Asian Grandmother's Cookbook
Linda's Vegan Pumpkin Pie at Spicebox Travels
Jill's Homemade Corned Beef at Eating My Words
Lucy's Sweet Potatoes with Cane Syrup at A Cook and Her Books
Betty's Sisig Rice at Asian in America
Eleanor's Surf and Turf at Wok Star